Which faux fur coats are best this winter?
When cold weather starts to creep in and you're feeling a chill in the air, staying cozy is essential. But buying a winter coat that keeps you warm doesn't mean you have to compromise on style.
Faux fur coats are a great way to combine classic fashion with winter warmth, whether you're dealing with a cool breeze or more severe, snowy weather.
Types of faux fur
As real animal fur has faded out of common use, faux fur has been developed to take its place. Faux fur is made from fine acrylic strands, densely layered on a backing material to imitate the real thing.
You'll find a faux version of almost any kind of animal fur imaginable. Common types of faux fur include fox, rabbit, shearling, mink, sable, ermine and leopard. From different densities (or "piles") and coarseness to a wide range of colors, it can be difficult to tell the difference.
Benefits of buying faux fur coats
Price: Since they are made from synthetic materials that are not short in supply, faux fur is far cheaper than real fur.
Animal welfare: Faux fur has increasingly risen in popularity as support for the production of real fur has dropped. For those who support animal welfare, faux fur is a guilt-free alternative to the ultimate fashion statement.
Functionality: With modern technology, textiles have advanced to the point where faux fur is just as effective as the real thing when it comes to protecting against the cold.
Durability: Acrylic materials also make faux fur coats extremely durable in comparison to real fur. Faux fur coats tend to shed less and maintain their density longer.
Maintenance: Faux fur is generally much easier to clean and requires far less maintenance than real fur. Most real fur garments require professional cleaning and regular brushing to maintain their softness.
What to consider before buying a faux fur coat
Fit: Faux fur coats come in all shapes and sizes. You may want a full length, long-sleeved winter coat or a simple gilet (a sleeveless jacket resembling a waistcoat). It all depends on the climate you're in and where you want to wear your coat.
Style: From natural colors you'd find in real fur to brightly colored dyed material, faux fur coats come in lots of styles. You can also keep an eye out for features such as collars, hoods, pockets and a belted waist. If you like to mix and match materials, you may even prefer a coat with fur detail rather than a full faux fur coat.
Lining: If you're in a warmer climate, you can still enjoy a faux fur coat by choosing one with a slim lining. Those in very cold climates, meanwhile, can get padded or insulated coats with a faux fur outer layer to combine style and warmth.
Best faux fur coats to buy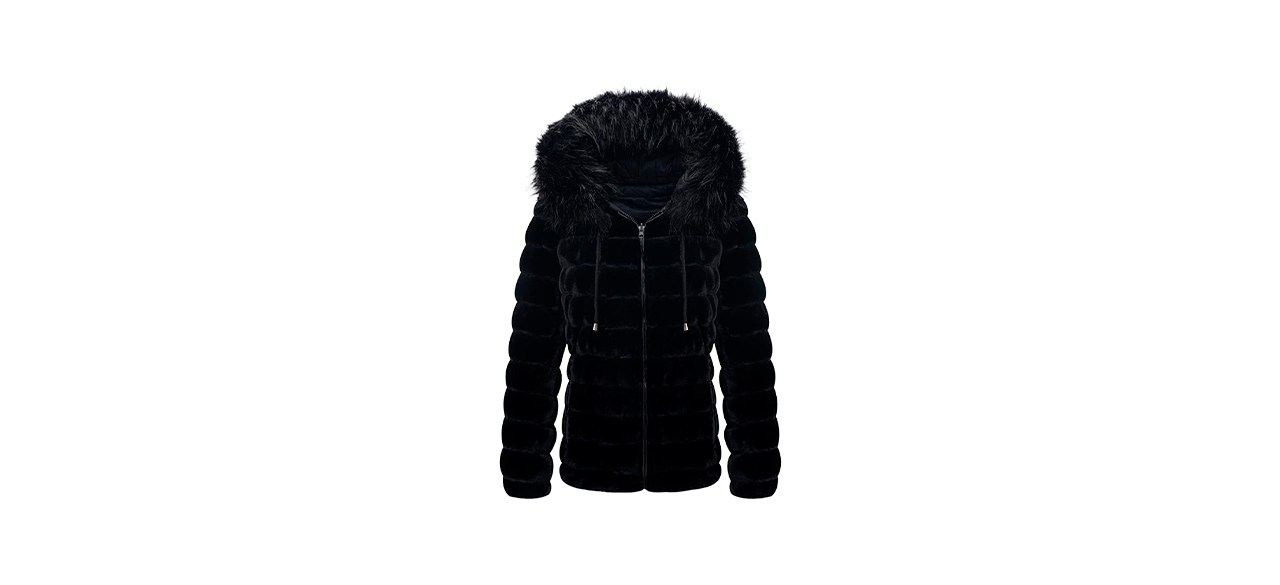 Bellivera Women's Double-Sided Faux Fur Jacket
Ideal for fall, this jacket comes with cotton padding to keep you warm through the cold months ahead. It's trendy, and its sleek, sporty and raglan-sleeve design makes it perfect for days out.
Sold by Amazon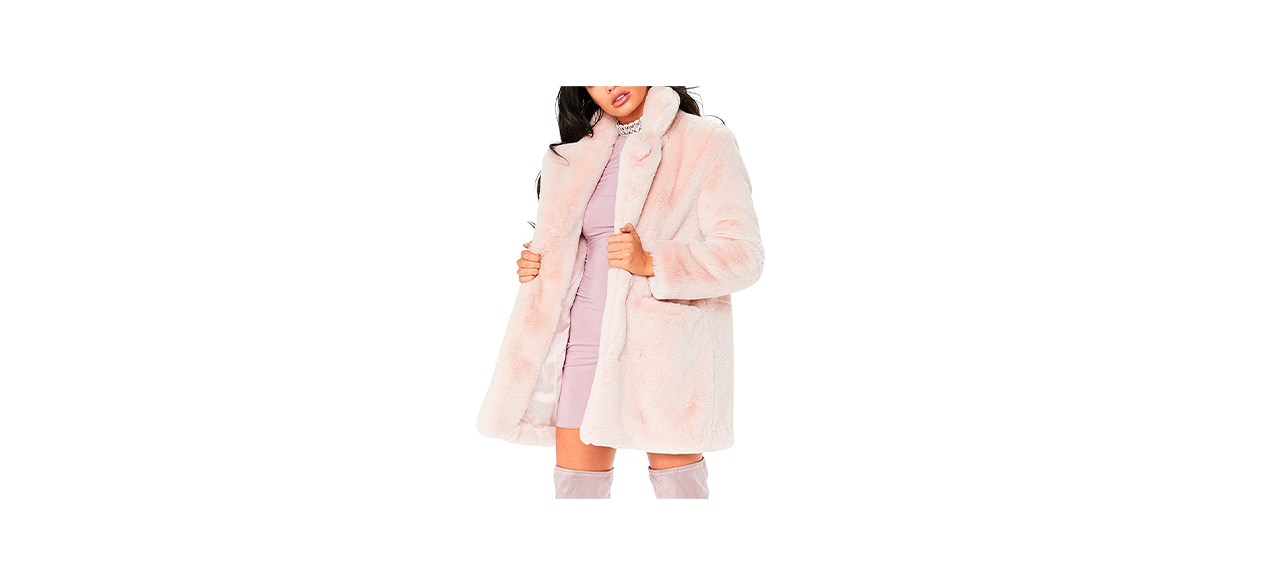 Remelon Long-Sleeve Fox Faux Fur Coat
This jacket is made from faux fox fur and comes in seven colors, from neutral tones to bright, flashy hues. The bell bottoms help it look elegant and modern, and the fabric keeps you warm while looking great.
Sold by Amazon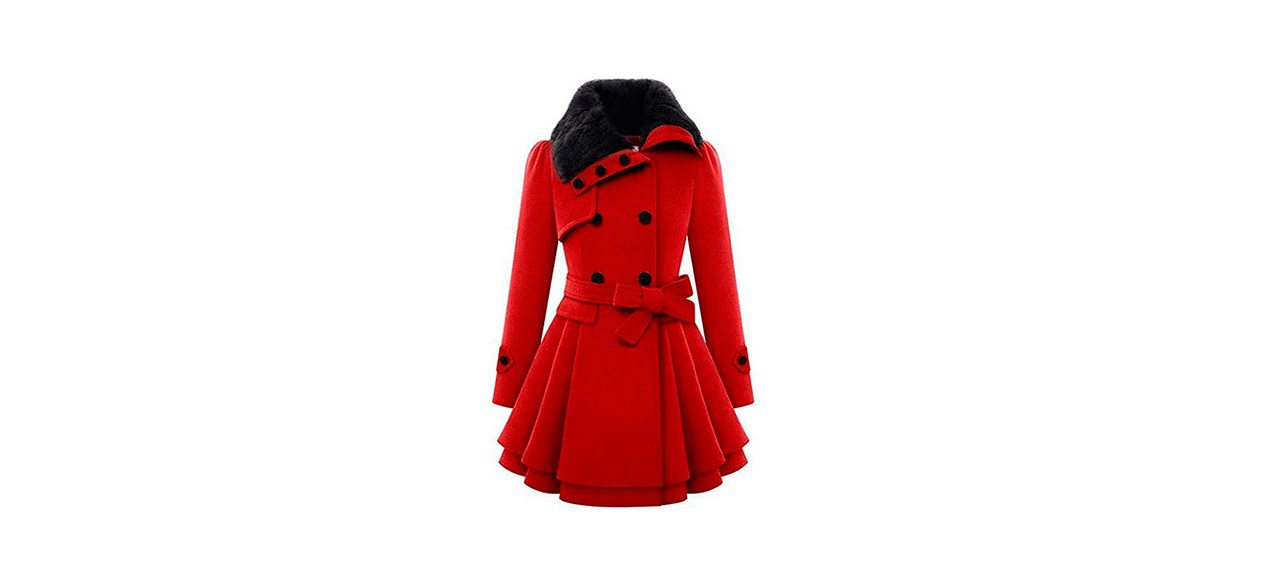 Zeagoo Faux Fur Lapel Double-Breasted Trench Coat
If you prefer fur detail rather than the full faux fur coat, this red wool trench coat is worth a look. The black faux fur trim and lining adds tons of elegance to its classic shape and color, perfectly complemented with black button detail and a belted waist.
Sold by Amazon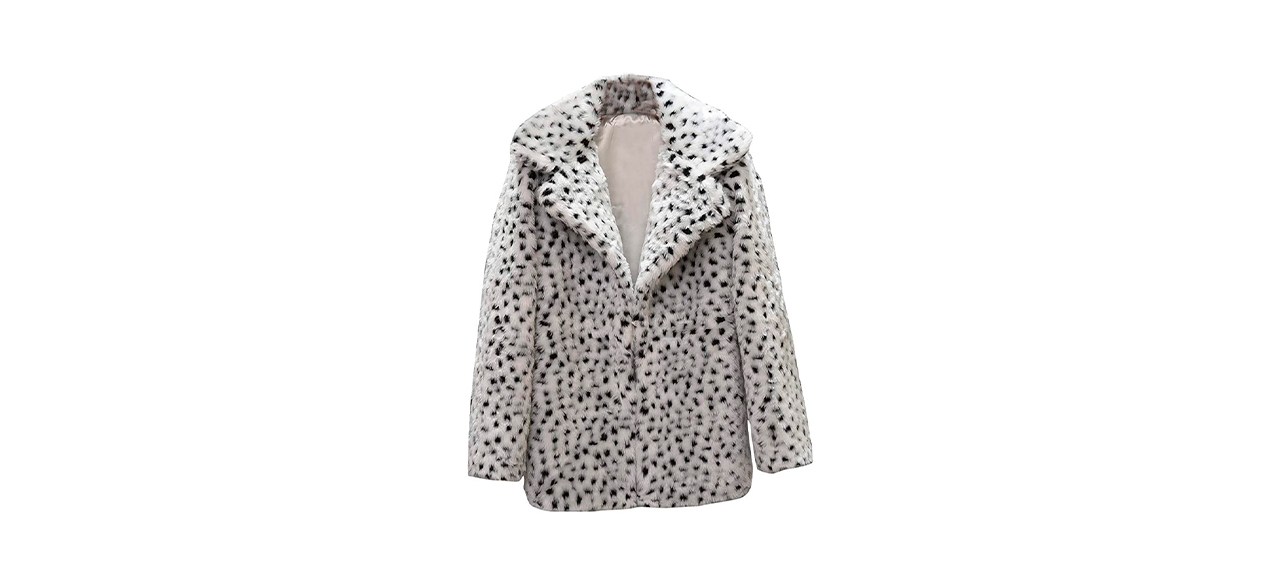 Sunmoot Long-Lapel Leopard-Print Faux Fur Coat
This casual leopard-print faux fur jacket is soft, stylish and comfortable for daily use or as a warm fall jacket. It's perfect for wearing out and about, and if leopard print isn't your thing, it also comes in solid block colors or tiger print.
Sold by Amazon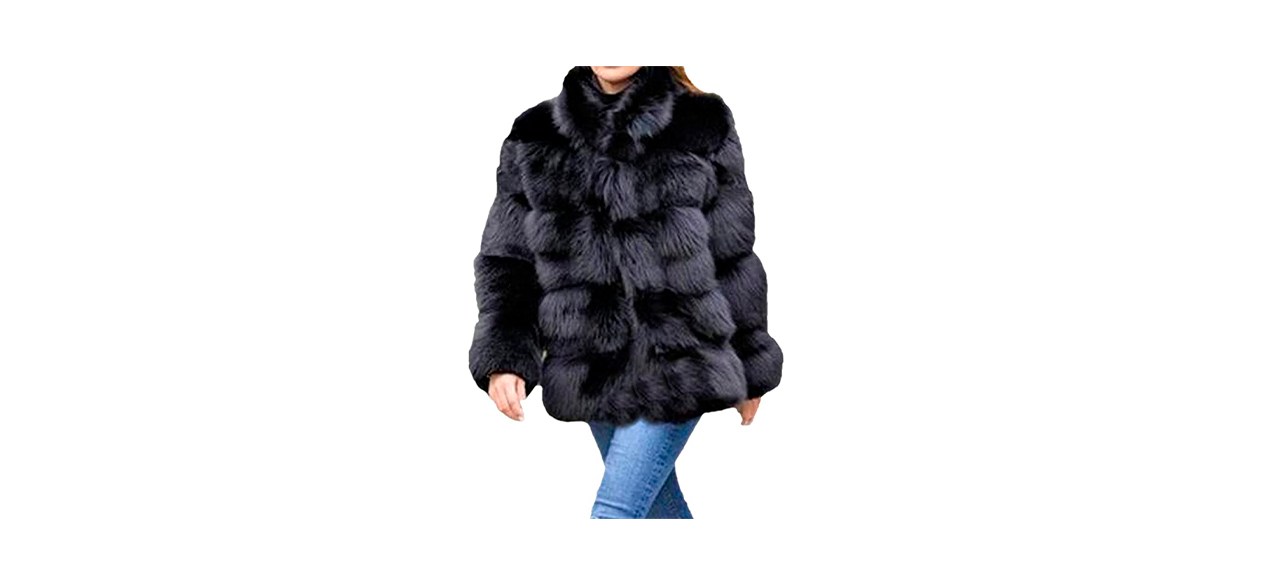 Lisa Colley Luxury Faux Fox Fur Coat
This short faux fur coat is available in 16 colors, some of which come with a collar and some with a hood. It's windproof and can keep you warm in temperatures as low as minus 4 degrees.
Sold by Amazon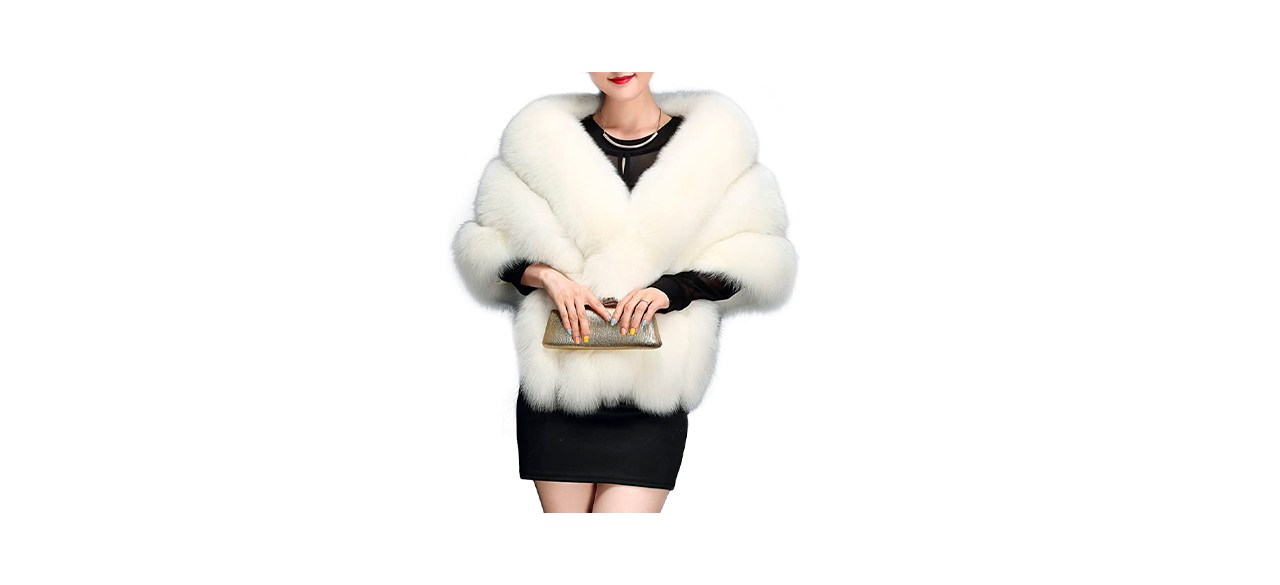 Amore Luxury Party Faux Fox Fur Cape
This luxurious, long faux fur wrap is lightweight and barely sheds, which is perfect for daily wear and cocktail parties. Made of acrylic, it's soft, comfortable, and excellent for keeping you looking classy while feeling warm.
Sold by Amazon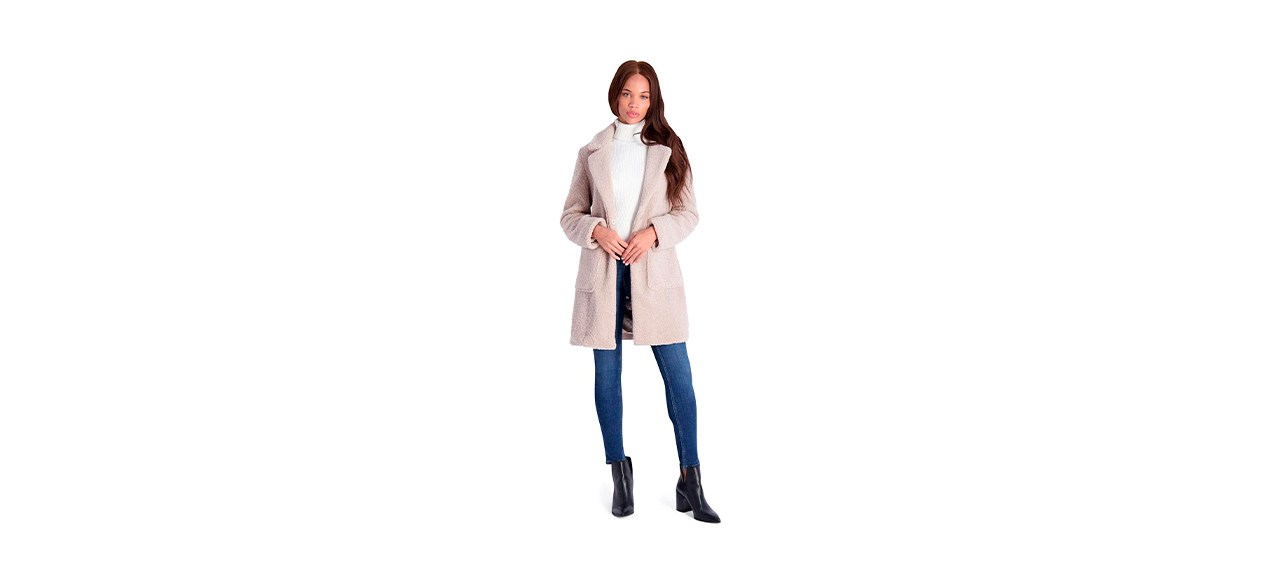 French Connection Women's Teddy Faux Shearling Coat
This coat has a classy look and warm design and is great if you're looking for a coat to wear through the fall's chilly days. Not only is it versatile, but its simple design makes it perfect for almost any occasion.
Sold by Amazon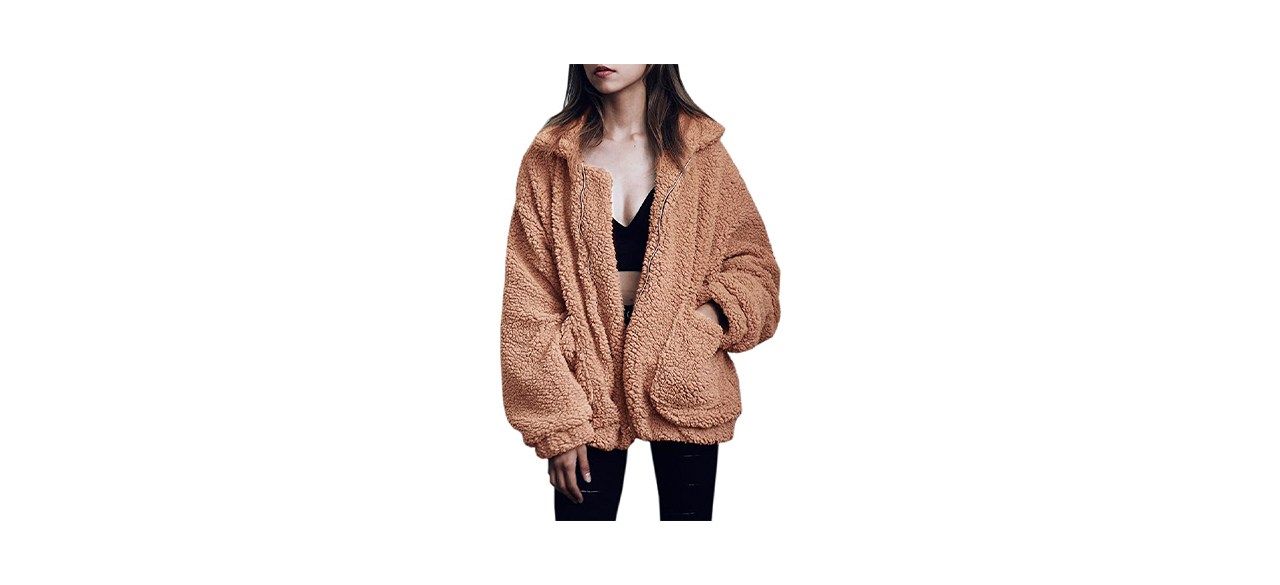 Ecowish Fuzzy Faux Shearling Zipper Coat
This oversized casual faux fur fall jacket is great combined with denim jeans and a black under top for a chic fall look. Not only does it look great, but the polyester material and lining make it warm, too.
Sold by Amazon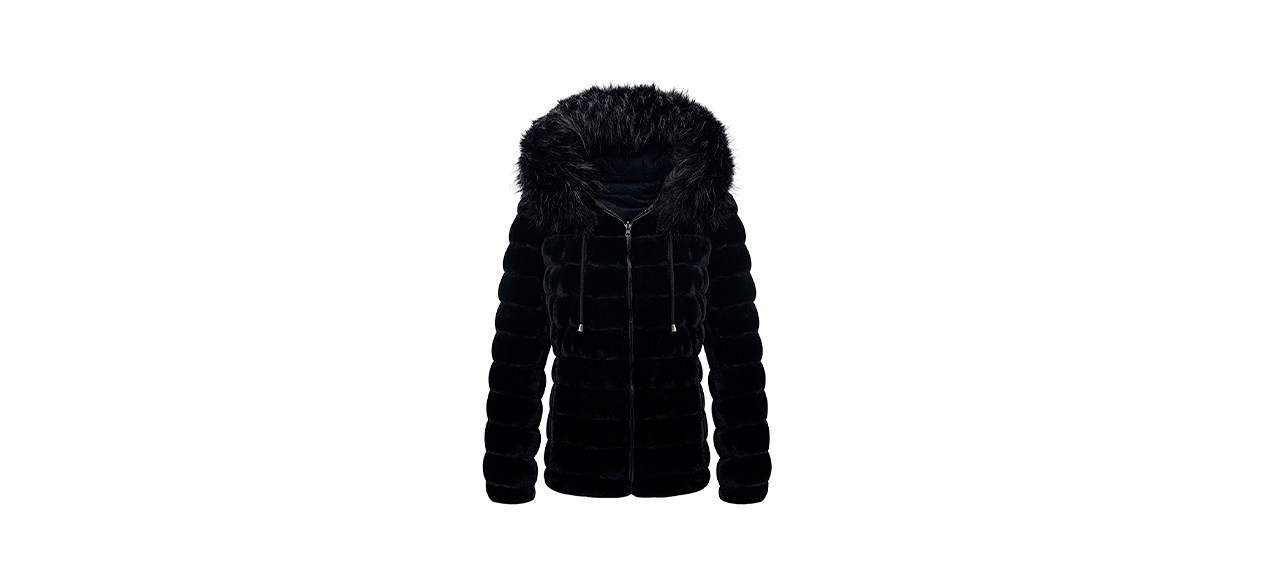 Geschallino Women's Shaggy Faux Fur Coat
This coat has a fuzzy, fleece-lined hood and fluffy, shaggy shearling material on the body to keep you warm through the cold months of fall and winter. It's soft faux fur is made to imitate the feel of real rabbit fur, and it's lightweight and warm.
Sold by Amazon
Want to shop the best products at the best prices? Check out Daily Deals from BestReviews.
Sign up here to receive the BestReviews weekly newsletter for useful advice on new products and noteworthy deals.
Lauren Farrell writes for BestReviews. BestReviews has helped millions of consumers simplify their purchasing decisions, saving them time and money.
Copyright 2023 BestReviews, a Nexstar company. All rights reserved.