Ways to wear a scarf
Scarves are essential winter wear, helping you stay warm even when an icy wind is blowing or there's snow on the ground. But knowing how to wear a scarf can be more complicated than it seems.
There are many ways you can tie a scarf, from simple to elaborate. If you're sick of your usual go-to and want to mix it up, it's worthwhile learning more ways to tie a scarf.
How to tie a scarf
While there are many ways you can tie a scarf, these are some of the most popular options.
Wrap
A basic wrap is one of the most common ways to wear a scarf. You simply wrap the scarf fully around your neck, with each end hanging loose down your front, at even lengths on each side. Typically, you wrap the scarf just once, but you can wrap extra-long scarves around twice for a fuller look.
Knotted wrap
This starts out the same as a standard wrap, but instead of letting the ends of the scarf hang loose, you tie them in a knot at your chest.
Tucked-in wrap
Again, this starts out like a standard wrap, but you continue wrapping the ends round and tuck them in at the back. If you don't like the look or feel or the ends of your scarf hanging down, the tucked in wrap is a great choice. Your scarf usually fully encircles your neck twice with this way of tying it, but it may go round as many as three times with a very long scarf.
Drape
A drape is when you simply loosely drape a scarf around your neck with the ends hanging down your front without wrapping or tying it. You can also choose to tuck it into a buttoned V-neck jacket or blazer, leaving at least half of the width of the scarf exposed.
Toss
For this method, you start in the drape position, then toss one end over your shoulder so it hangs down your back. This way of tying a scarf is simple yet stylish.
Loop
To tie your scarf in the loop fashion, fold it in half lengthways and hang it over your neck so that both ends are hanging over one shoulder and a loop of fabric is hanging over the other. Then, poke the ends through the loop and pull them to tighten it up as desired.
What to consider when buying a scarf
Once you know how to tie a scarf, you need to select the right scarf for you. These are some factors to consider when choosing.
Scarf type
Consider the types of scarf available. Some are better suited to certain times of year, but you can pick purely based on style preference.
Knitted scarf: Knitted from yarn, these classic scarves can be fine, chunky or anything in between. They're often relatively thick, so they aren't as good for more intricate tying methods.
Woven scarf: These can be made from any kind of woven material. Since there aren't gaps in the way there are between stitches in knitted scarves, they're warm but thinner and less bulky. This makes them great for more elaborate ways of tying.
Lightweight scarf: Made from materials such as chiffon and polyester, these are great for spring and summer wear.
Infinity scarf: This scarf is shaped in a continuous loop, infinity scarves are great for anyone who struggles to tie their scarf in conventional ways.
Color or pattern
Scarves come in a wide range of both solid colors and patterns. These patterns can be knitted or woven into the fabric and include basics like stripes and plaid, as well as more elaborate options, like leopard print and geometric designs.
Materials
These are some of the most common materials that scarves are made from:
Cotton: You can find scarves knitted from cotton yarn or made from woven cotton fabrics, usually thick ones, such as cotton jersey.
Acrylic: Knitted scarves are often made from acrylic yarn because it's warm and soft, yet affordable.
Wool: Wool scarves are extremely warm but they're expensive. They're also not ideal for wet weather wear and are often dry-clean-only.
Fleece: Lightweight yet extremely warm, fleece is a practical choice for scarves, even if it isn't the most stylish fabric. It dries quickly and is easy to care for.
Best scarves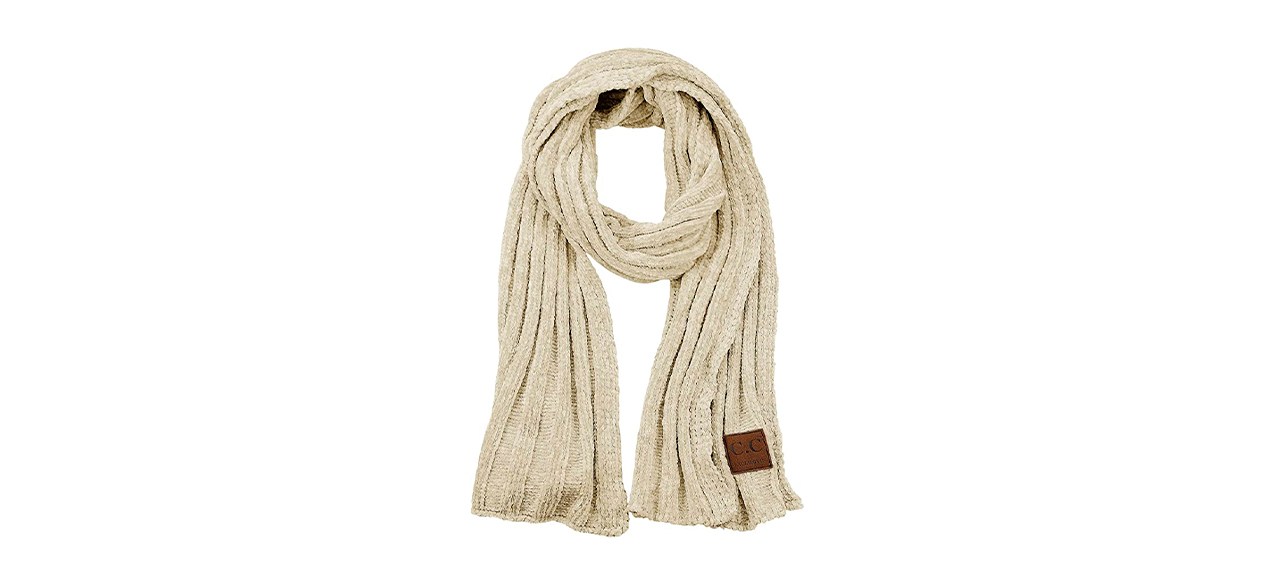 C.C. Ultra-Soft Chenille Scarf
Made from an incredibly soft chenille yarn, this scarf is cozy and warm and since it's quite long, it lets you experiment with more elaborate ways to tie it. You can choose from more than 10 colors, including black, taupe and dark purple.
Where to buy: Sold by Amazon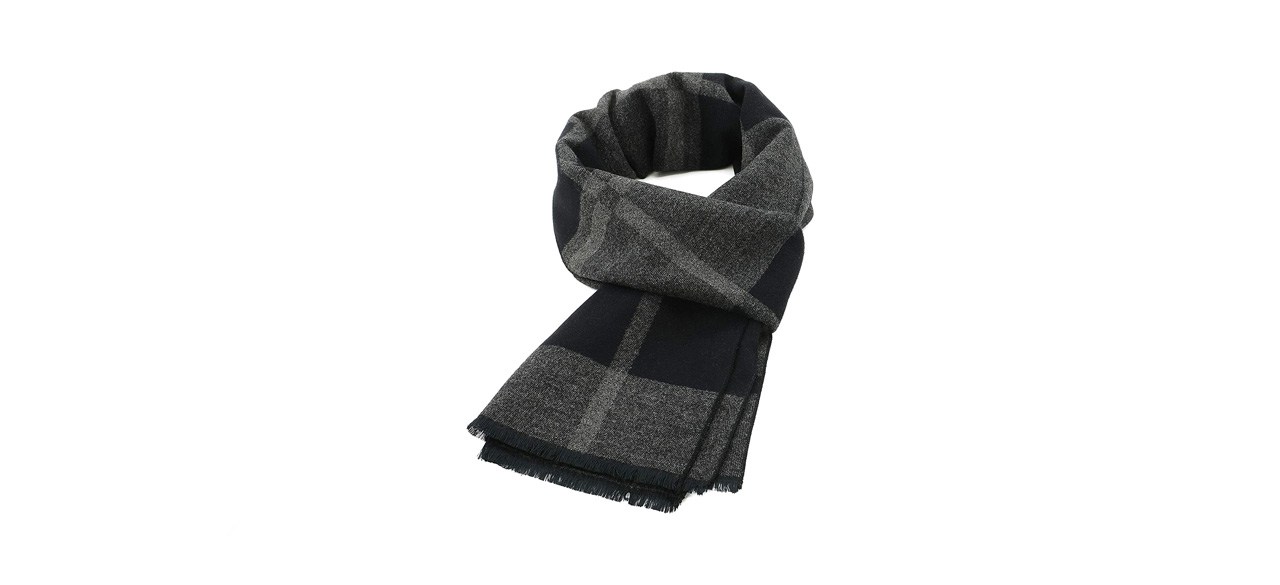 American Trends Warm Woven Scarf
The woven acrylic fabric has the softness of cashmere, making this scarf warm yet thin enough to tie in a variety of ways. It comes in more than 20 prints, including various striped and checked designs, all in muted hues that work with most outfits.
Where to buy: Sold by Amazon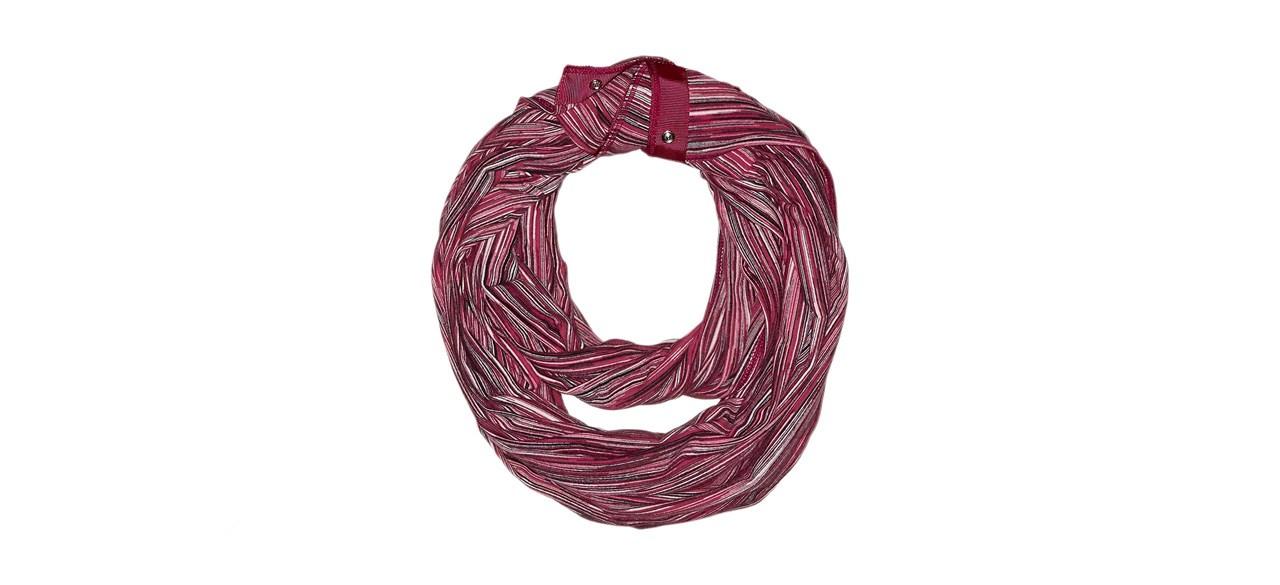 With snaps on either end, it's easier to wear this scarf in a range of ways, but you can still tie it in conventional ways if you want to. It's made from a thin, lightweight material, which is great for packing on cold weather hikes.
Where to buy: Sold by Amazon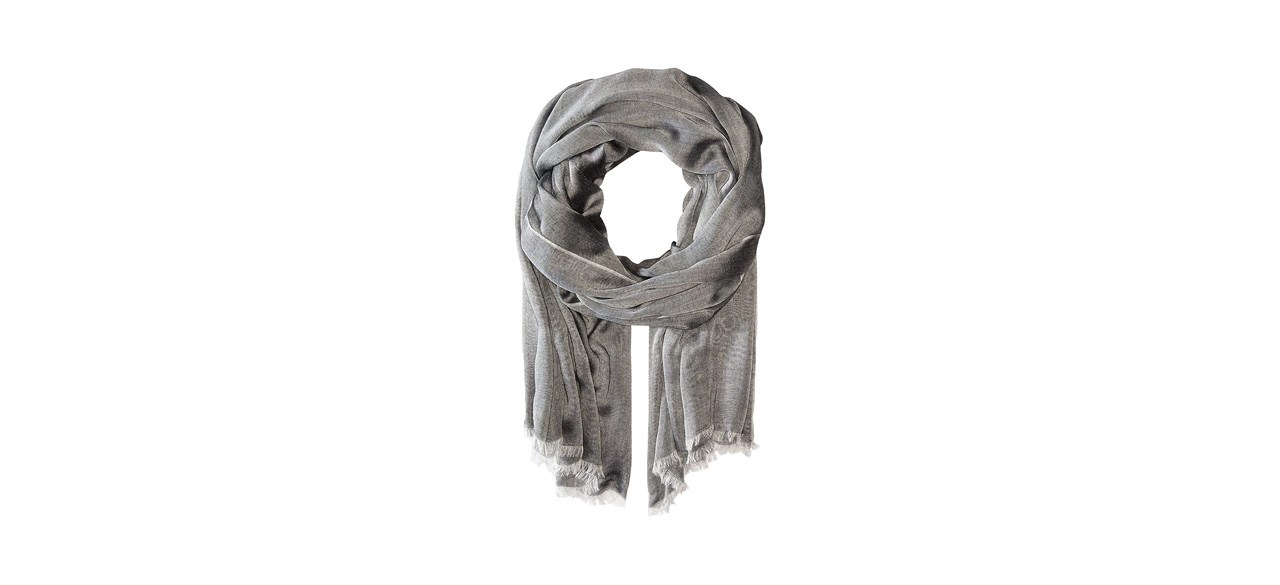 Calvin Klein Solid Chambray Scarf
This scarf is crafted from a light chambray fabric that's perfect for milder days but is long enough to tie using all kinds of methods. It comes in six hues, including ocean and eggshell, and has slight fringing on either end.
Where to buy: Sold by Amazon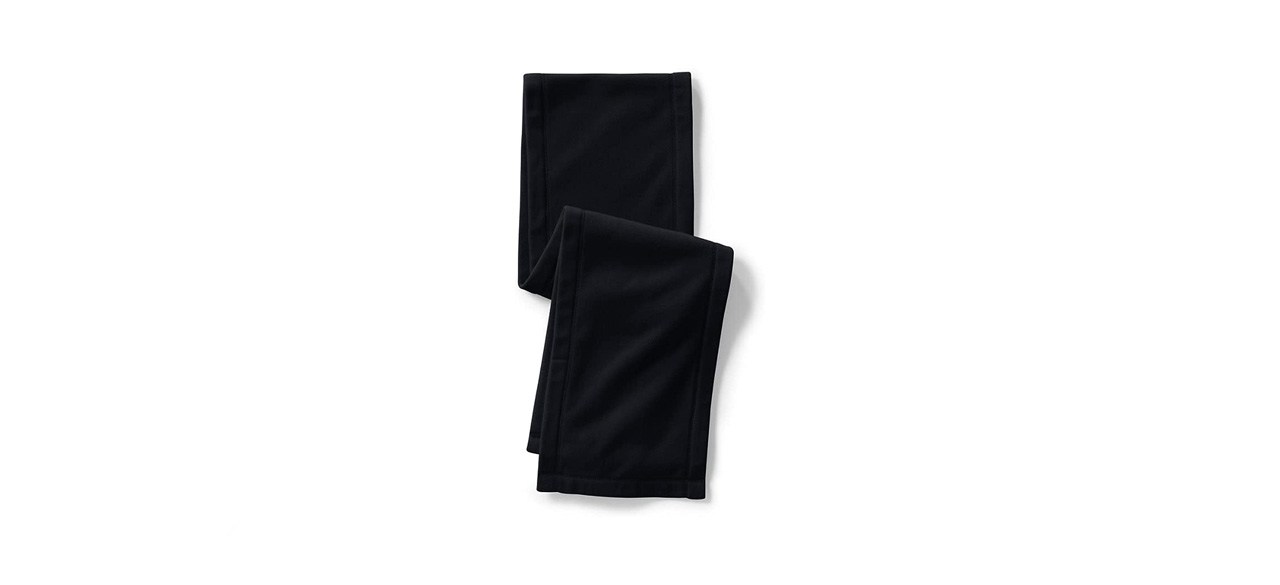 Lands' End Fleece Winter Scarf
Since it's made from fleece, this scarf is extremely warm and cozy, even on the chilliest of days. You can choose between eight colors and prints, including solid red, black buffalo check and leopard print.
Where to buy: Sold by Amazon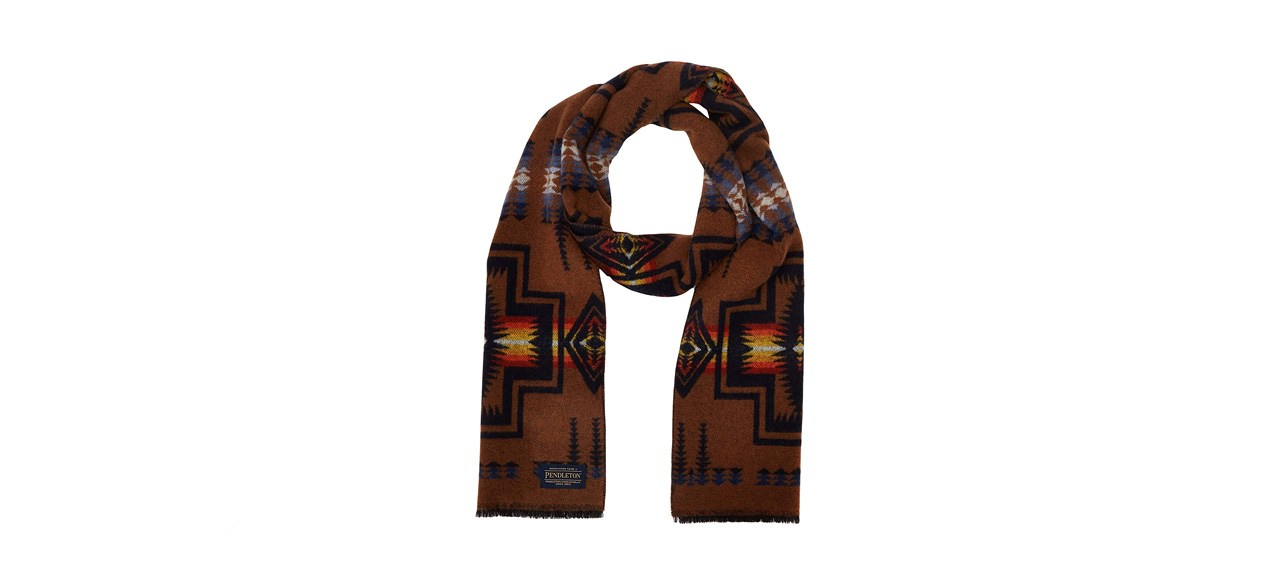 Although it isn't cheap, this pure wool scarf is stylish and incredibly warm. It's available in five distinctive prints that make it an eye-catching choice.
Where to buy: Sold by Amazon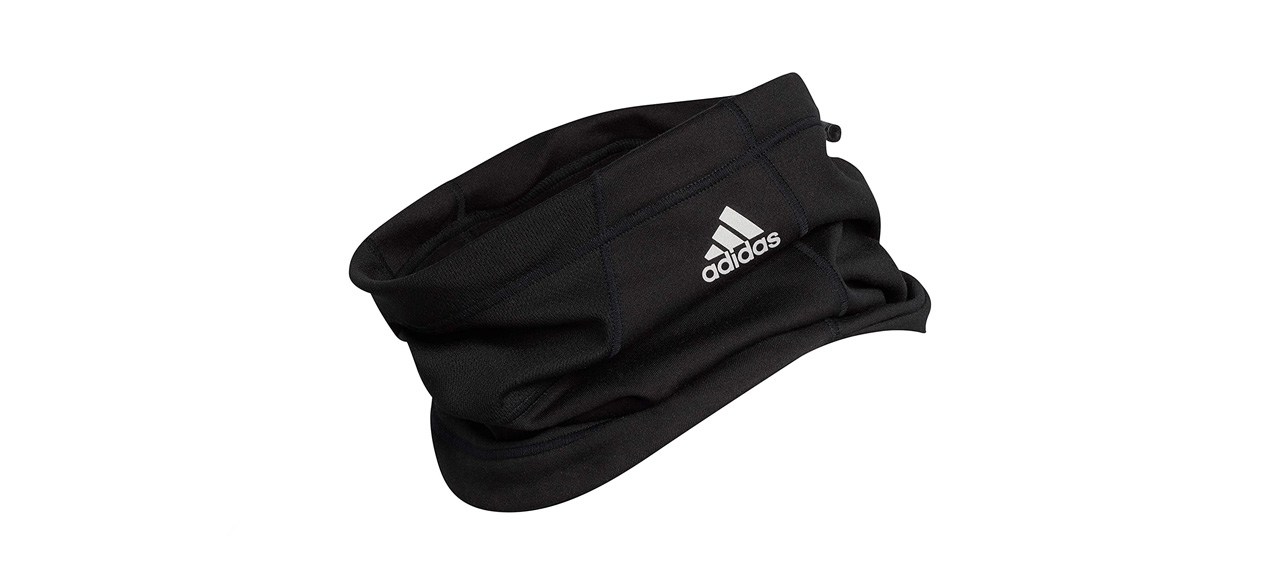 If you've decided that working out how to tie your scarf stylishly is more trouble than it's worth, you might prefer to wear a neck warmer. This one is fleece-lined to make it soft and warm, yet breathable enough to wear while exercising.
Where to buy: Sold by Amazon
Want to shop the best products at the best prices? Check out Daily Deals from BestReviews.
Sign up here to receive the BestReviews weekly newsletter for useful advice on new products and noteworthy deals.
Lauren Corona writes for BestReviews. BestReviews has helped millions of consumers simplify their purchasing decisions, saving them time and money.
Copyright 2023 BestReviews, a Nexstar company. All rights reserved.