House train your dog with artificial lawn pads
While some puppies catch onto house training really quickly, others may take longer to adjust. Some puppies might even become picky with where they relieve themselves. If they've already gotten acquainted with your backyard grass, then they may not feel comfortable going anywhere else. If grass is all your dog knows, going on the sidewalk or street might be daunting for them later on. It may sound strange, but such "restroom anxiety" is as real as puppy separation anxiety. So, what's an owner to do?
Shop this article: CooZero Artificial Grass, Porch Potty Premium, Fresh Patch Standard Training Pad
Why do some dogs only pee on grass?
Some dogs become comfortable peeing on grass, especially if they were taught to go on the grass initially. While some dogs have no problem transitioning to other potty areas, like sidewalks or pavement, others may prefer to pee in the grass because it's soft and they're used to it. Dogs that have been relieving themselves in urban areas where there isn't much grass might not have this issue, especially if they've been doing it since they were puppies.
Can you train a dog to pee on concrete?
If your dog will only pee on the grass, you can try to retrain them to potty somewhere different, such as on the concrete, in the sand or on gravel. Start by walking your dog in other areas, introducing them to other options besides grass. Areas with little patches of grass can help your dog get started. You can then introduce an artificial lawn pad.
If you want to go beyond the pad and train them to go directly on pavement, encourage the dog to potty in the same place even when the pad is removed by adding sand to start. Once they've nailed that, consider removing the sand entirely.
Best artificial lawn pads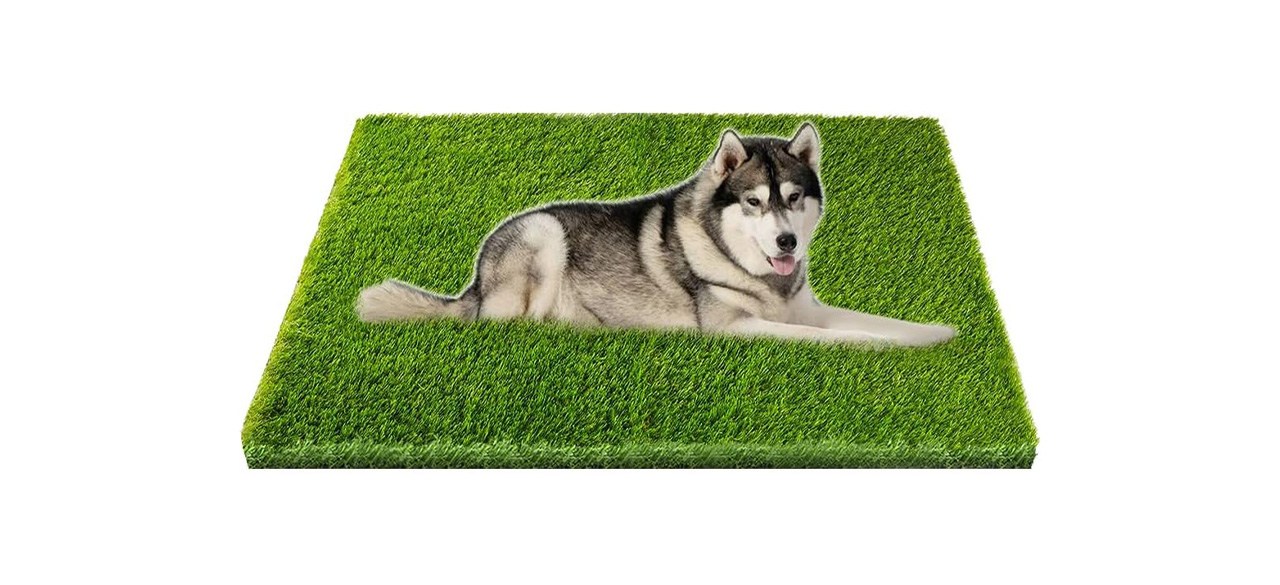 Dense blades make this pee pad look more like an authentic lawn than a green shag carpet. Underneath the realistic grass, there's a water-permeable rubber pad with a drainage hole for siphoning liquids below, but you'll have to buy a pan separately if you plan on using it indoors.
Sold by Amazon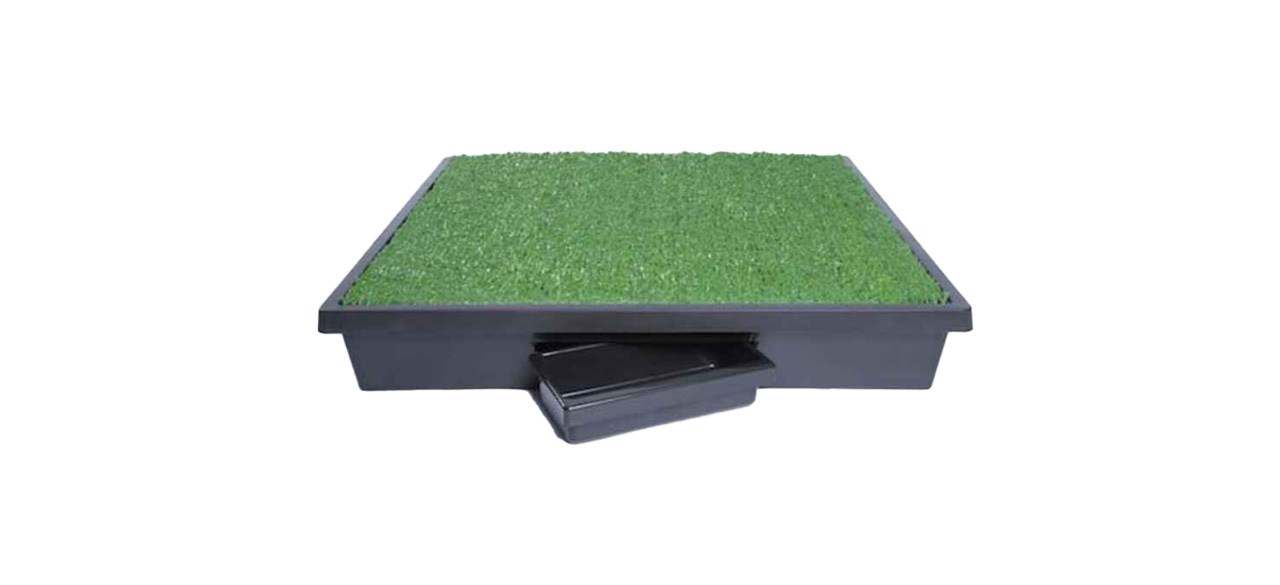 This backyard-in-a-box has a reinforced plastic base and an angled tray top that helps liquids run down to the tray below. The removable container catches waste, which can then be transferred into a toilet or outside. One disposable Pee Pod and a trial-size of Wee Sponge powder is also included for even easier cleanup.
Sold by 1800 Pet Meds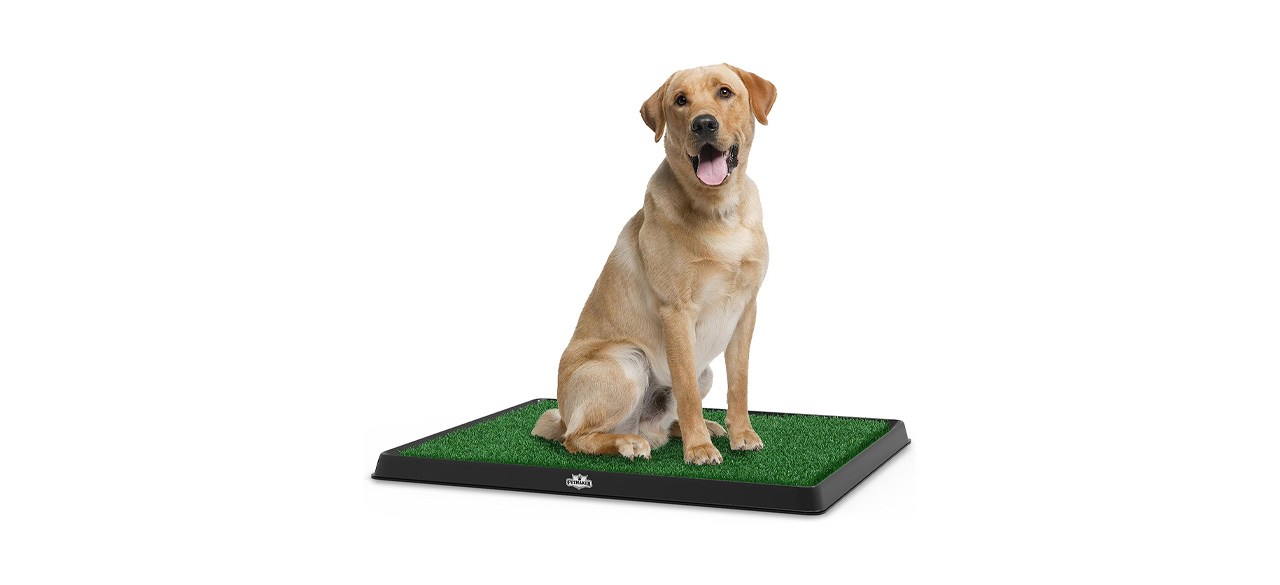 Petmaker Artificial Grass Puppy Pee Pad
This Amazon bestseller has nearly 26,000 reviews and comes in small, medium or large. You can buy it in either a three-layer or four-layer system, and replacement pads are sold separately. The three-layer system includes one layer of synthetic plastic grass, a plastic drainage insert and a bottom-layer pan, while the four-layer system includes an additional cloth mat that sits between the grass and the drainage insert.
Sold by Amazon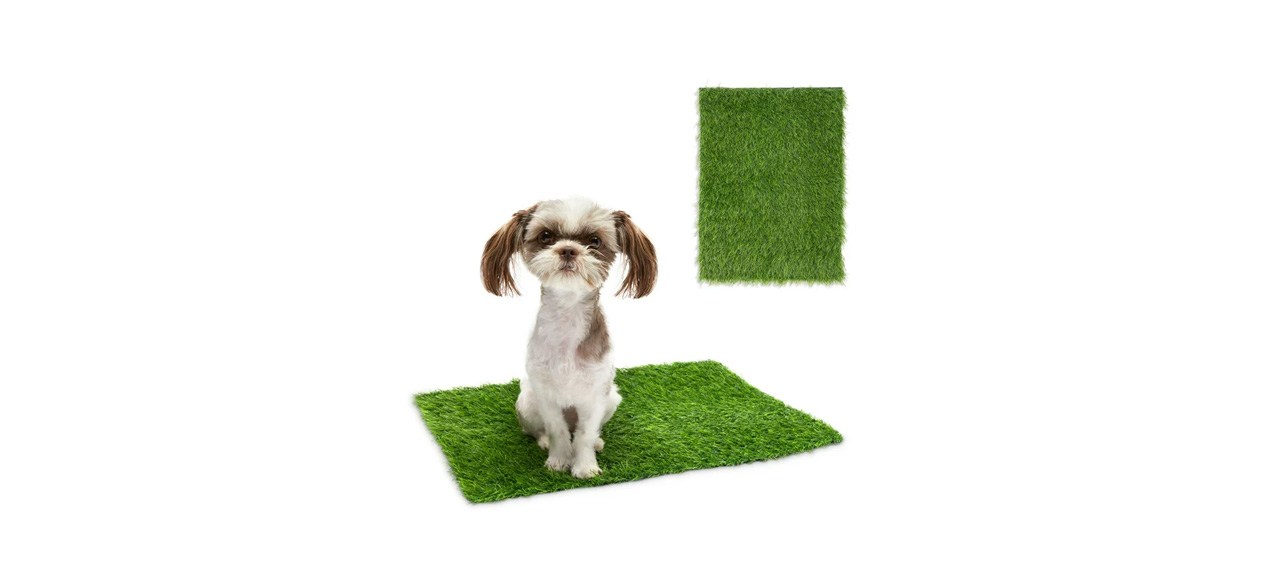 Zodaca Artificial Turf for Dogs
For dogs that need less room to go, this 15 by 20-inch artificial turf option fits neatly in small yards, on porches or indoors. It has a rubber slip-resistant backing and can be easily rinsed off with a hose and soapy water.
Sold by Walmart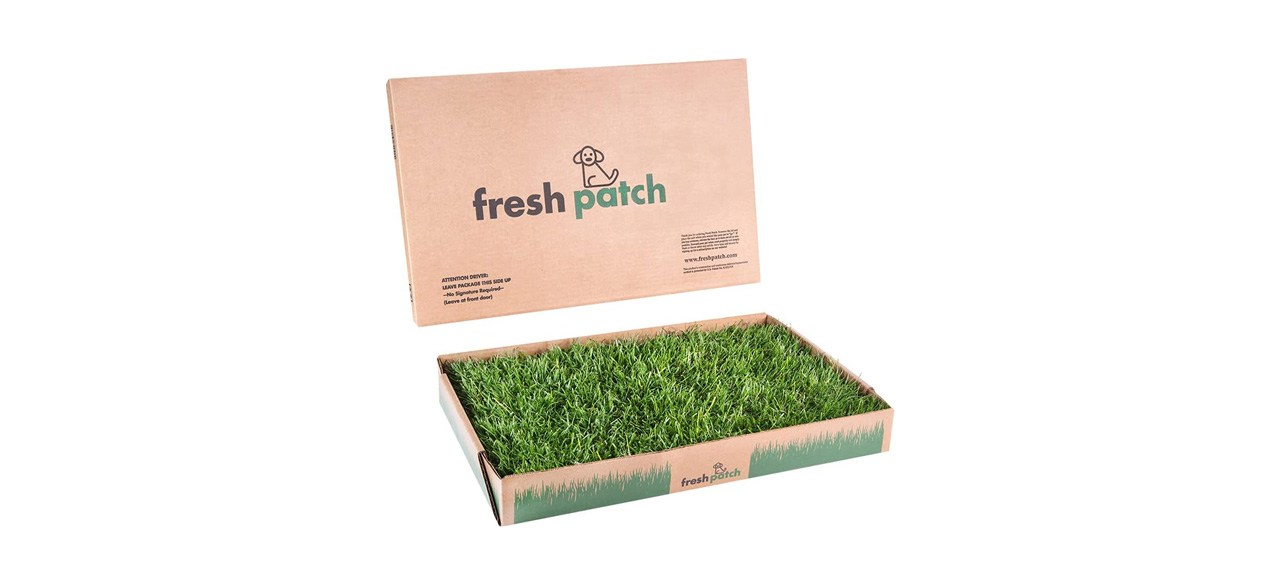 Fresh Patch Standard Training Pad
This training pad comes in many size options, from mini to extra large. Only the XL comes with a pee pan, but all sizes are actual dirt-free grass patches. The grass is disposable after each use, so there's no need to clean, deodorize or maintain it.
Sold by Amazon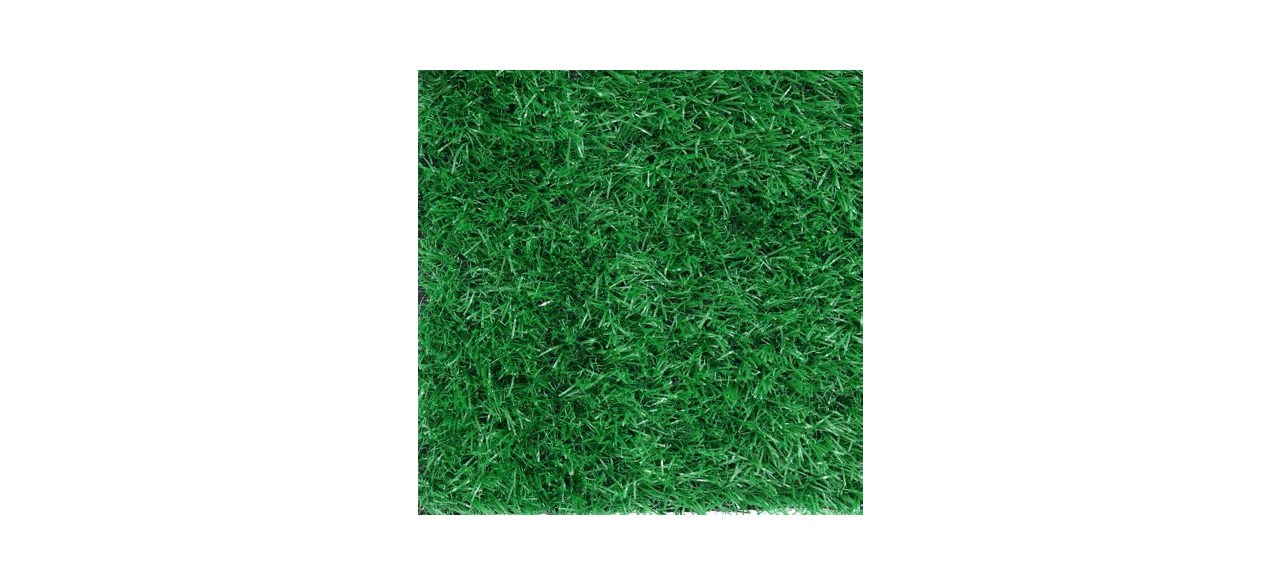 BKB365 Dog Grass Artificial Turf
Made of high-quality PE material, this option is soft enough for dogs' sensitive paws and has drainage holes that clear out urine and water quickly. The "grass" is also porous on its own, so dogs don't step in the urine and leave with wet paws.
Sold by Wayfair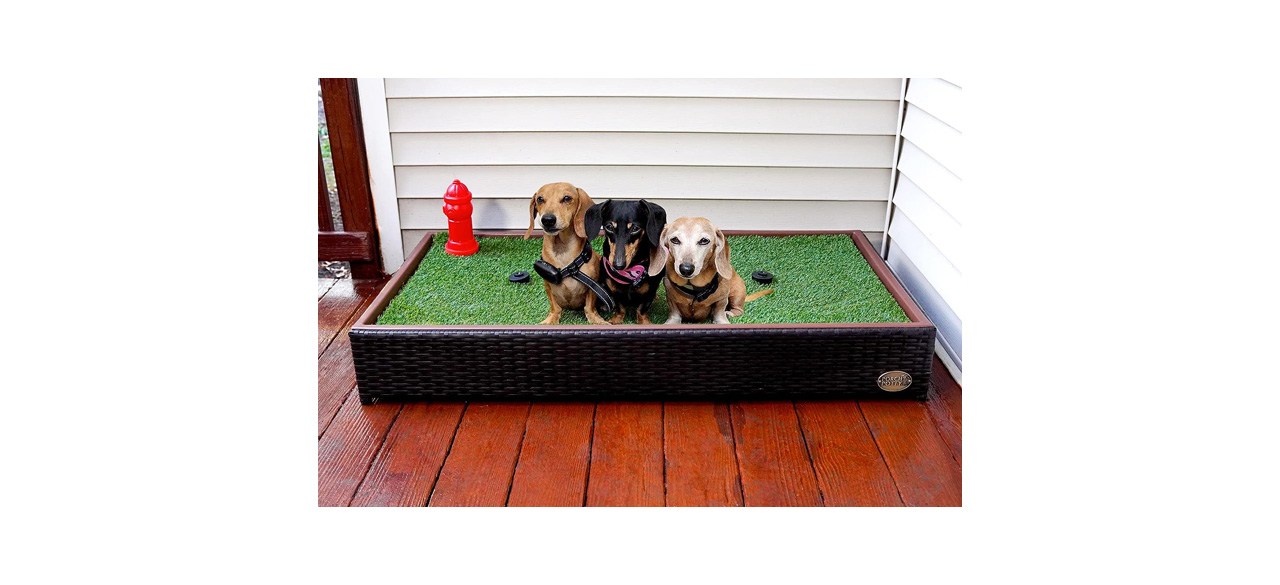 The only artificial lawn pad with a self-cleaning sprinkler system, the Porch Potty also comes with a tiny red fire hydrant to further encourage dogs to go. Also included with this 20 by 50 by 7-inch model is a washable pee pad and a 14-foot drainage hose for easy cleanup. The 4 by 2-foot grass area self-drains into a either the Indoor Catch Basin or into the hose, though if you're hooking the sprinkler up to a water source, the basin should be removed. You can also buy the Porch Potty Water Timer, which is sold separately, to completely automate the process.
Sold by Amazon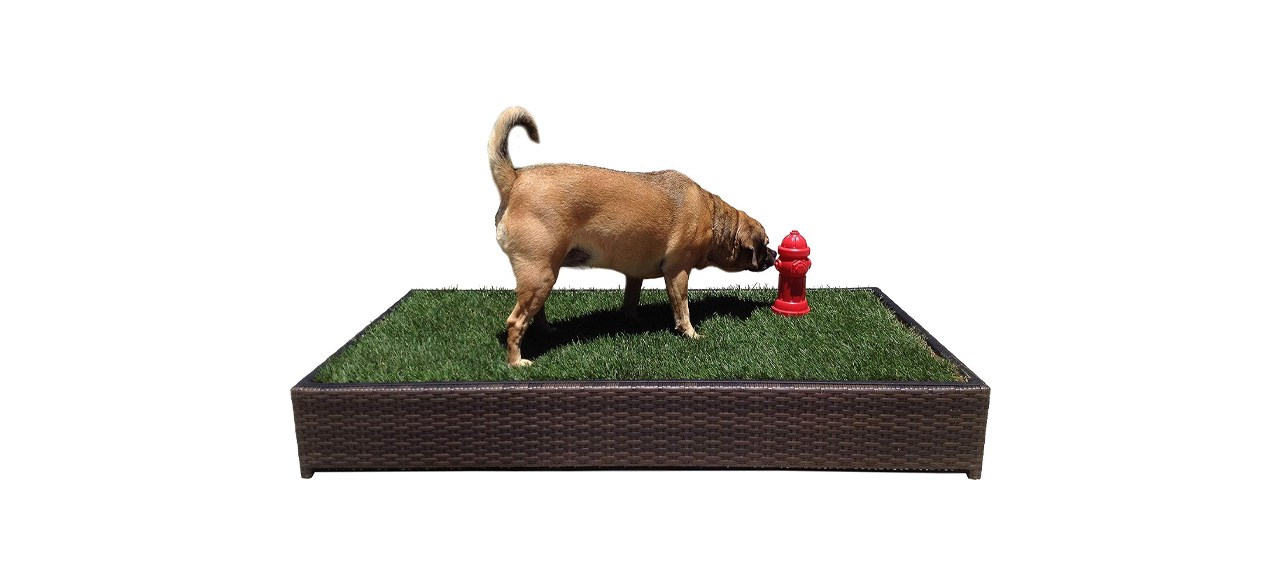 The standard size of the Porch Potty measures 26 by 50 by 7 inches and also has a 4 by 2-foot grass area. The main difference with this size is that it doesn't have a sprinkler system, so it has to be washed down with a hose or watering can — no soap required. The grass area self-drains into the basin underneath or the 14-foot drain hose that's included.
Sold by Amazon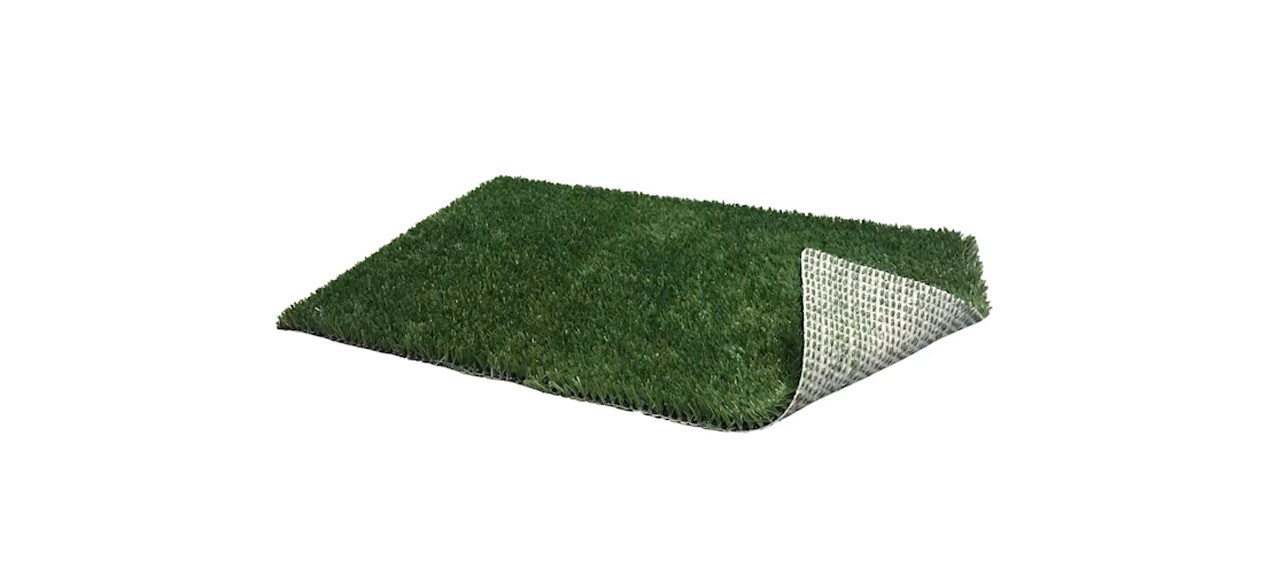 PoochPads Indoor Dog Potty Replacement Grass
If you already have a catch bin or if you only plan to use the pad outdoors, you can buy these refills. Each piece of grass is washable, which means no extra waste.
Sold by Petco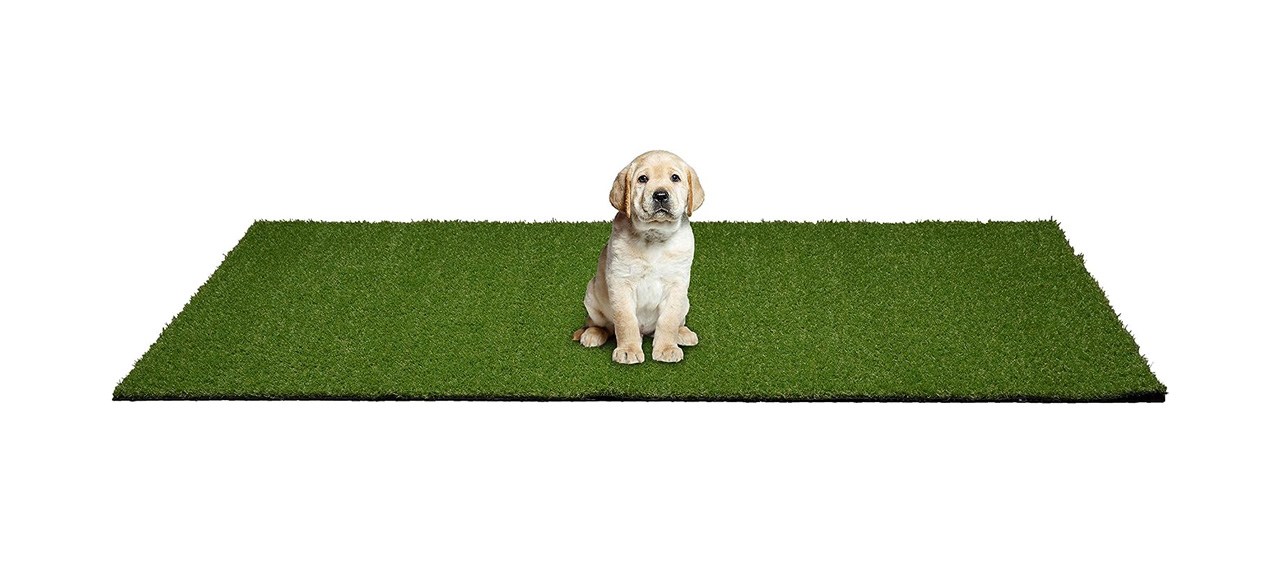 This artificial grass pee pad comes in seven sizes — from 3 by 4 feet to 6 by 9 feet. It's made from 100% polypropylene and also has a stain-, water- and fray-resistant marine backing with drainage holes for preventing moisture buildup.
Sold by Amazon
Other products worth checking out
Want to shop the best products at the best prices? Check out Daily Deals from BestReviews.
Sign up here to receive the BestReviews weekly newsletter for useful advice on new products and noteworthy deals.
Stephanie Osmanski writes for BestReviews. BestReviews has helped millions of consumers simplify their purchasing decisions, saving them time and money.
Copyright 2023 BestReviews, a Nexstar company. All rights reserved.