Pumpkin spice dog treats are everywhere right now
The most famous acryonym of the fall season is back, and that's PSL — Pumpkin Spice Latte. While Starbucks is offering buy-one, get-one-free deals PSLs on Thursdays, all throughout the month of September, pets can actually get in on the seasonal fun and have a cute dog fall, too. This year, that includes pumpkin spice-flavored treats and food toppers.
Shop this article: Bark Pumpkin Food Topper, Greenies Pumpkin Spice Dental Care Chews, The Honest Kitchen Goat's Milk N' Cookies Slow Baked with Pumpkin Dog Treats
Owners are wondering: Can dogs have pumpkin spice?
It is safe for dogs to eat pumpkin and pumpkin-flavored treats (so long as the other ingredients are safe for dogs). In fact, veterinarians may recommend adding a few tablespoons of pumpkin, pumpkin puree or pumpkin powder to your dog's meal if your pet is experiencing diarrhea. This adds more fiber to its food, which is why the American Kennel Club also reports that it can assist with dog constipation as well. The high fiber content in pumpkin also acts as a prebiotic, encouraging the growth of healthy bacteria in the intenstines and discouraging the bad kind.
Ground pumpkin seeds are also sometimes used to deworm dogs naturally. The seeds contain the amino acid cucurbitacin, which freezes and kills off tapeworms in the digestive tract. Anecdotally, pet owners report this takes a minimum of seven days before the worms are fully gone. Always consult your veterinarian before trying this natural method of deworming.
However, dogs should not be fed pumpkin pie puree, as that has a high sugar content, according to AKC. It also includes other ingredients that can cause tummy issues in dogs, like condensed milk. Pumpkin spice beers and other pumpkin-flavored alcohol is also considered harmful for pets.
You will also want to refrain from feeding your dog anything pumpkin spice-flavored if it contains nutmeg or cloves — especially in high quantities.
If your dog does get into something pumpkin spice-flavored that's specifically for humans — like a container of the spice itself — contact your vet or Animal Poison Control at 888-426-4435 and be on the lookout for symptoms like vomiting.
Pumpkin spice treats are generally safe for dogs
Pumpkin spice is not harmful to dogs, but you have to know what it's spiced with. Ingredients like pumpkin, honey, cinnamon, plain yogurt, vanilla and ginger are generally safe for dogs. However, there is always a risk should your dog ingest too much fresh cinnamon or ginger at once. Be sure to watch your dog and feed it spices in limited quantities. Manufactured dog treats should include safe levels of each ingredient, but consult a veterinarian if you are not sure. Take into consideration your pet's weight as well.
When searching for pumpkin spice-flavored treats and food toppers, check the ingredients. Be sure to look for whole, natural ingredients, as not all pumpkin spice treats are created equal. Pumpkin powder is also thought to help dog's digestion because of its prebiotic fiber.
Best pumpkin spice-flavored treats for dogs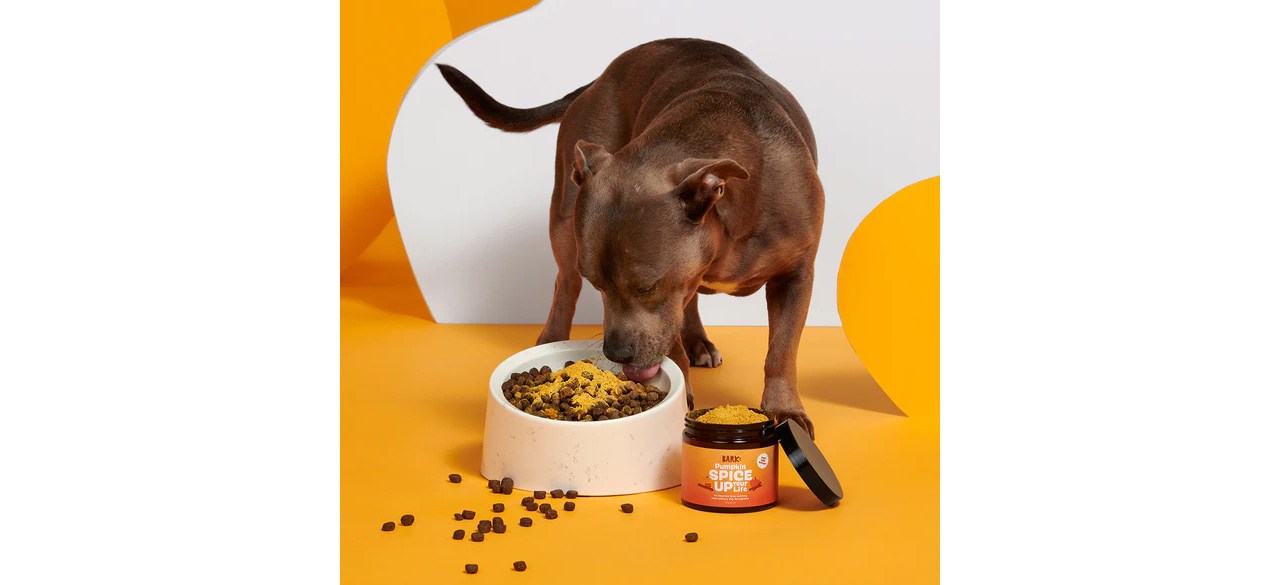 New to Bark this year, this pumpkin-flavored food topper is a mix-in that can be added on top of a meal as either a powder or paste (just combine with water for paste). Its main ingredients include pumpkin, honey, cinnamon, coconut flakes, vanilla and ginger, so it's packed with healthy fiber.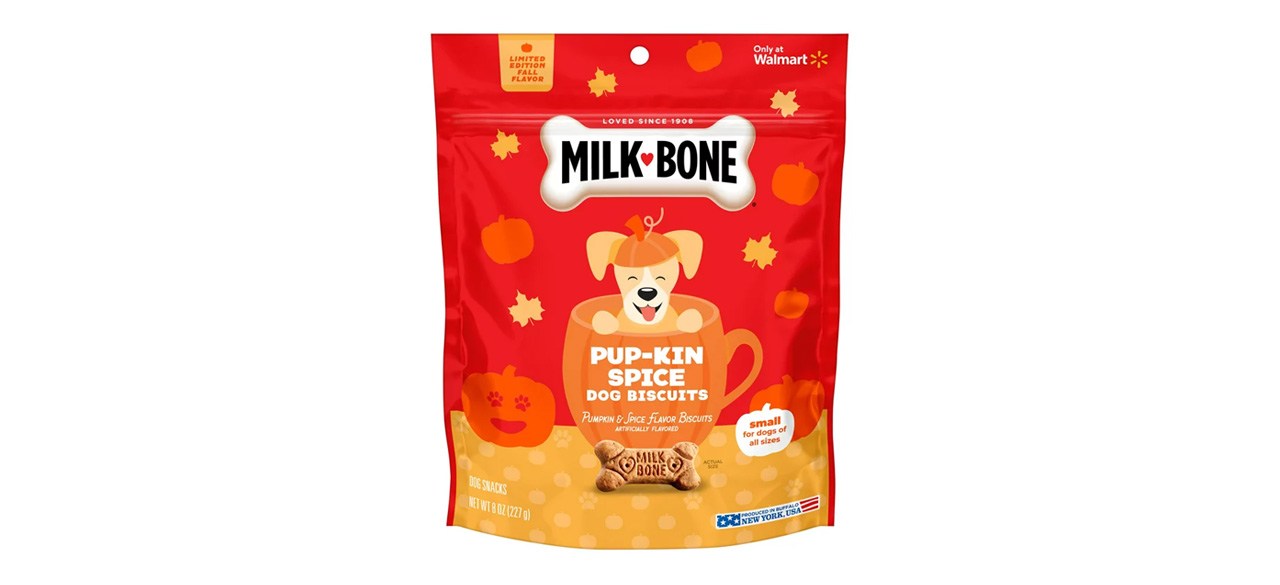 Milk-Bone Pup-kin Spice Crunchy Biscuits All Life Stage Dog Treats
Made for dogs of all breeds and sizes, this pumpkin spice flavor from Milk-Bone is a Limited Edition. It comes in an 8-ounce bag and each batch is baked with 12 vitamins and minerals. The treats, which are artificially flavored, are crunchy to help reduce tartar buildup on dogs' teeth.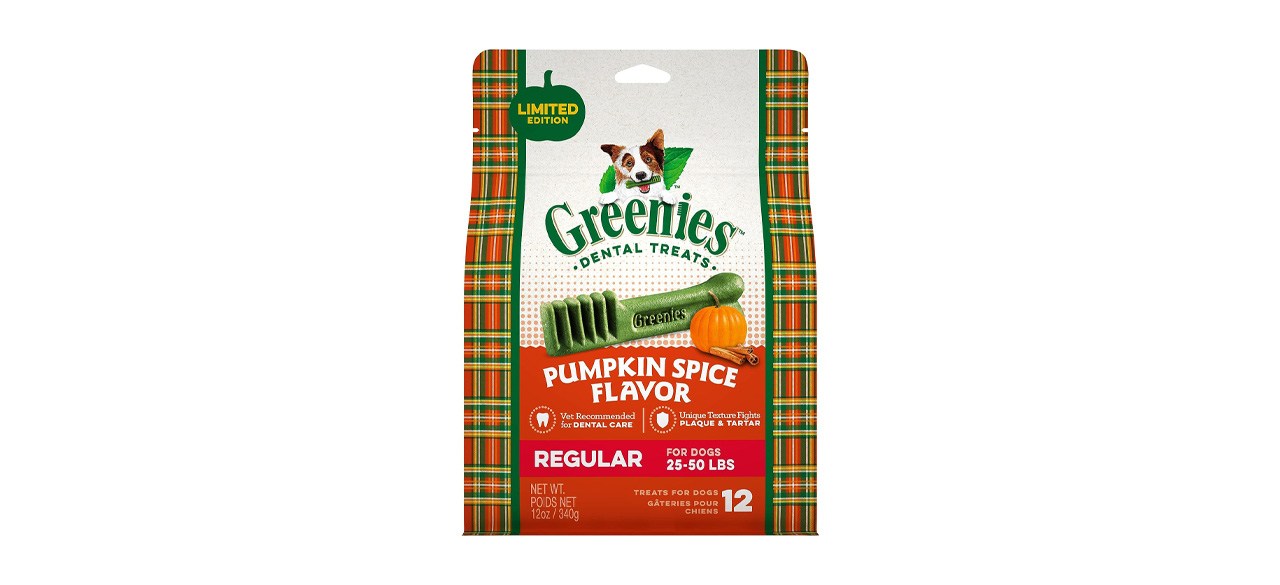 Greenies Pumpkin Spice Dental Care Chews
With 4.8 stars and more than 2,800 five-star reviews on Amazon, Greenies now makes its popular dental care chews in pumpkin spice flavor for the season. It's made with dried pumpkin, and are the ideal size for dogs 25 to 50 pounds.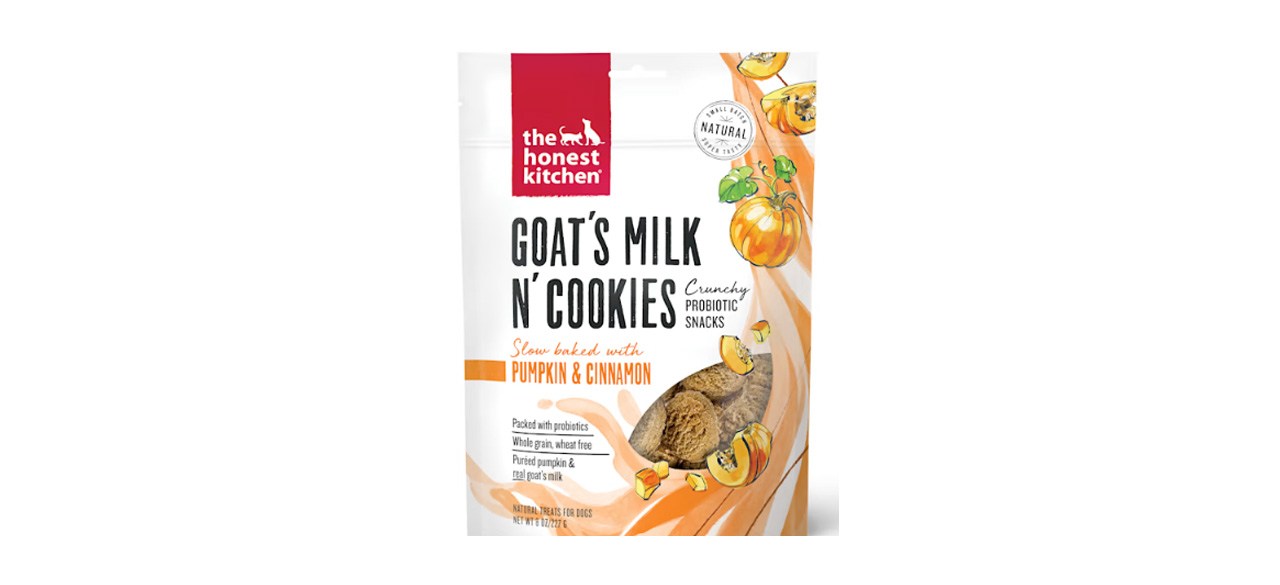 The Honest Kitchen Goat's Milk N' Cookies Slow Baked with Pumpkin Dog Treats
These treats are slow baked with ingredients like pureed pumpkin, cinnamon and goat's milk. Each treat is packed with probiotics for a healthy gut and is also wheat- and whole grain-free. There are no GMO ingredients, artificial preservatives or artificial colors or flavors used at all.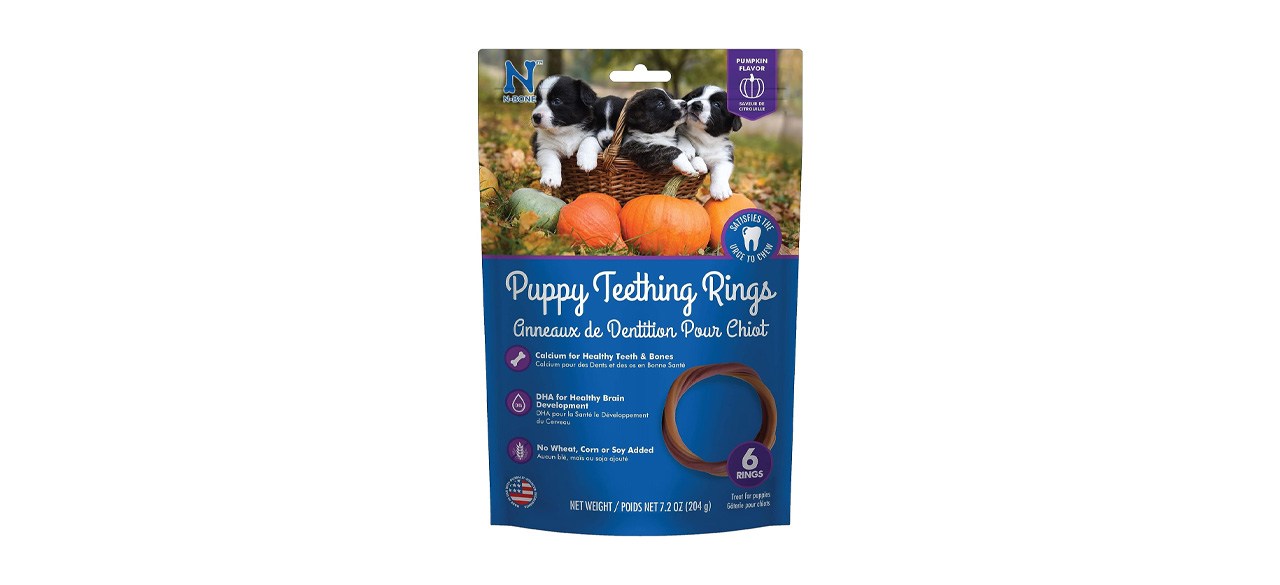 N-Bone Puppy Teething Ring Pumpkin Flavor
For teething puppies, this teething ring is also pumpkin-flavored. Recommended for pups over 12 weeks old and more than 5 pounds, it has more than 4,000 five-star ratings on Amazon. Ingredients include rice flour, sweet potatoes, pumpkin, cranberries, oat fiber, natural pumpkin flavor, cinnamon, fennel, turmeric and more.
Want to shop the best products at the best prices? Check out Daily Deals from BestReviews.
Sign up here to receive the BestReviews weekly newsletter for useful advice on new products and noteworthy deals.
Stephanie Osmanski writes for BestReviews. BestReviews has helped millions of consumers simplify their purchasing decisions, saving them time and money.
Copyright 2023 BestReviews, a Nexstar company. All rights reserved.