Good morning, I'm Dan Gartland. For the second Feb. 1 in a row, Tom Brady has announced he's retiring.
In today's SI:AM:
🏈 Catching up with Donna Kelce
​🏊🏿 College swimming's hottest ticket
If you're reading this on SI.com, you can sign up to get this free newsletter in your inbox each weekday at SI.com/newsletters.
He sounds sure this time
Tom Brady is retiring—again. But this time he says it's "for good."
In a video posted to his social media accounts this morning, Brady announced that he was hanging it up after 23 years in the NFL:
​​​​​​"I'm retiring. For good. I know the process was a pretty big deal last time, so when I woke up this morning I figured I'd just press record and let you guys know first.

"I won't be long-winded. You only get one super emotional retirement essay, and I used mine up last year. So, I really thank you guys so much, to every single one of you for supporting me. My family, my friends, teammates, my competitors. I could go on forever; there's too many. Thank you guys for allowing me to live my absolute dream. I wouldn't change a thing. Love you all."
The announcement puts an immediate end to all the speculation about what Brady's next move would be. After the Cowboys beat the Buccaneers in the first round of the playoffs, Brady sounded ready to leave Tampa Bay behind, but it wasn't clear whether he was walking away from the NFL entirely. Rumors cropped up signaling that he could go to a number of teams in need of a quarterback: a hometown return with the 49ers, a cross-state move to the Dolphins, a reunion with Josh McDaniels in Las Vegas, or any other move you could imagine.
In the end, retiring always seemed like the smartest decision. Brady was diminished this season. He declined in a number of key statistical categories, and the Bucs finished with an 8–9 record, the first time a Brady-led team finished with a sub-.500 record. The last few years of Brady's career have been about proving that he could succeed at an advanced age. I always thought he would keep playing until his age caught up to him in some catastrophic way, so it's a relief to see him walk away before he embarrassed himself.
Even though we know Brady won't be playing in the NFL next season, his future is still a little bit uncertain. Fox had hired him to become its top color commentator immediately after he retired from playing, but, as Jimmy Traina wrote a few weeks ago, Greg Olsen's stellar performance in that role has thrown a wrench in that plan. Would NFL fans really be that upset if Brady was off their TV screens for a little while?
You can buy Sports Illustrated's Tom Brady retirement commemorative edition here.
The best of Sports Illustrated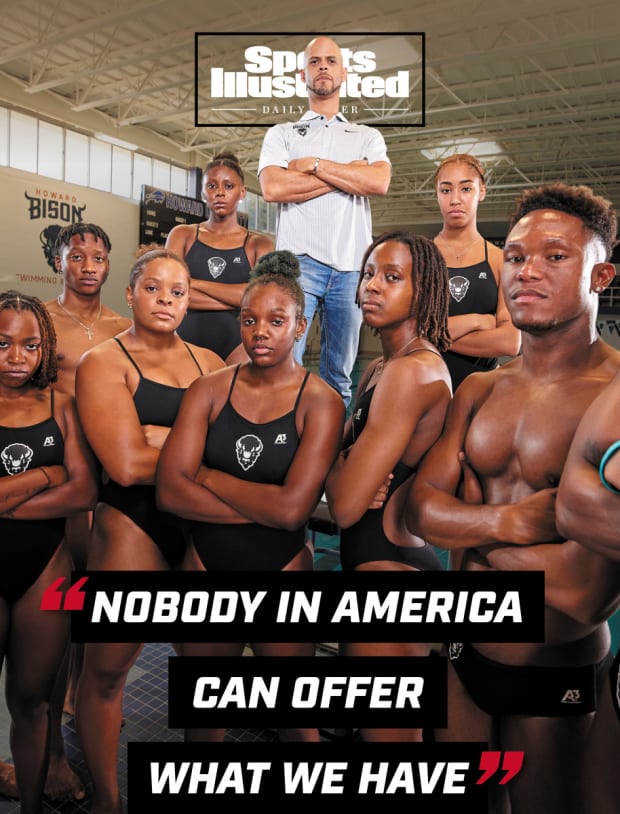 "Nic Askew, the program's 44-year-old coach, is standing alongside the pool's wooden seats, thanking well-wishers. It's hard for him not to feel a swell of pride with each handshake and hug and pat on the back as he moves through the crowd. Since taking over this once-moribund program eight years ago, the former Howard swimmer has created arguably the most electric collegiate swimming environment in the U.S."
The top five...
… plays of Tom Brady's career:
5. Julian Edelman's circus catch during the Patriots' Super Bowl comeback against the Falcons.
4. His last-second touchdown pass to beat the Saints in 2013.
3. His catch against the Eagles in 2015.
2. A 56-yard bomb to Jabar Gaffney on a trick play in 2007.
1. His 700th career touchdown pass in 2021 that was also an overtime game-winner.
SIQ
Who was named MVP when the Steelers beat the Cardinals in Super Bowl XLIII on this day in 2009?
Ben Roethlisberger
Hines Ward
Willie Parker
Santonio Holmes
Yesterday's SIQ: At 5'9", Isaiah Thomas is the shortest player in NBA history to record a triple double. Who held the record before him?
Muggsy Bogues
Nate Robinson
Damon Stoudamire
Michael Adams
Answer: Michael Adams. On Jan. 31, 1991, Adams had the game of his life. He had 45 points, 12 assists and 11 rebounds as his Nuggets beat the New Jersey Nets.
The game came in the middle of a torrid stretch for Adams, who in 11 games from Jan. 10 to Feb. 2 averaged 30.4 points per game. (His career average was 14.7.) That stretch included a six-game winning streak for the league-worst Nuggets. But even Adams, who had only four games in his 11-year career with at least 10 rebounds, was shocked that he notched a triple double.
"I've never scored like this so many games in a row," Adams said after the game. "The most points I've ever had, I mean ever, was 46. That was high school. And I've never had 11 rebounds before in any game."
Unfortunately for Adams, his hot streak came after All-Star ballots had been submitted, although he did make the All-Star team for the only time in his career in the following season.
The 1990–91 season was by far the best of Adams's career. A third-round pick out of Boston College in '85, Adams was in his sixth season as a pro. He averaged 26.5 points and 10.5 assists per game. He never averaged more than 18.5 points or 7.6 assists in any other season. Of Adams's 19 career games with at least 35 points, 15 occurred that season.
I hadn't heard of Adams before, but I very much enjoyed looking up his highlights on YouTube and seeing him beat players off the dribble with his speed and put the "jump" in jump shot with his sky-high leaps on three-point attempts.
Sports Illustrated may receive compensation for some links to products and services on this website.