The Texas men's basketball team is gathered at Ruth's Chris Steak House here in Knoxville, in a private room distinguished by the two-word sign outside: "Hook 'em." Tomorrow the Longhorns will play Tennessee in a top-10 showdown. Tonight, following a practice at Thompson-Boling Arena, the team has circled up with arms over shoulders for a pre-dinner prayer before digging into filets and New York strips.
Between bites, happy chatter fills the room. Everyone has deposited their cellphones in a bucket emblazoned with the word "culture," eliminating electronic distraction in order to maximize team communication. They'll pick up the phones again when the meal is over.
At a table in the back corner of the room, interim coach Rodney Terry pulls up the left sleeve of his black quarter zip to show a visitor the Rolex on his wrist. Terry had given it to someone as a gift several years ago, and it had come back to him recently. He wears it in honor of a coach who isn't there. "Every game I'm going to coach for the rest of my career, I'm going to wear this watch," Terry says. "So he's with me every game."
Chris Beard? No. This is far more personal, and cuts far deeper, than his relationship with the boss he succeeded as coach of the Longhorns amid sudden and shocking circumstances seven weeks earlier.
Calvin "Hucky Man" Phillips, Terry's father, is the coach he is honoring. Phillips spent 42 years working with high school football and basketball players in Texas, coaching until bone cancer forced him to the sidelines last year. After suffering cardiac arrest, he died in August at age 77.
"He was pretty firm," Terry says, with a laugh that often punctuates the end of his sentences. "Pretty old school. Well respected by his players and peers. We had a memorial service and were just blown away with what people thought of my dad. It was incredible."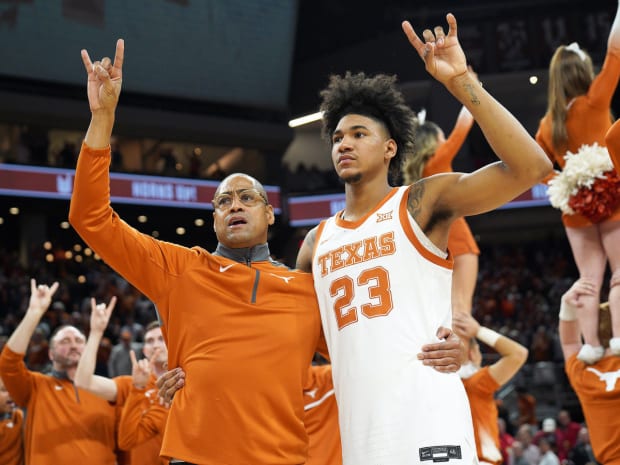 The last time Phillips watched his son coach was a year ago, when Texas hosted Tennessee in the Big 12/SEC Challenge. The Longhorns won by a point in the kind of sweaty-palms battle that Phillips rarely could stand to watch.
"If the game was really close, he would be up somewhere on the concourse," Terry says. "He could never stay until the end of the game. He would ask, 'Did we win?' He was more nervous than we were."
Beard left an imprint on this team that remains visible in much of what they do. But Hucky Man Phillips left an imprint on his son's soul that is a stronger guiding principle in this most unusual basketball season.
"I don't look at it as tough," Terry says. "Tough for me is when I lost my dad in August. This is doing what we love."
Handed a big job on a loaner basis amid terrible circumstances, the 54-year-old Terry is keeping Texas men's basketball together and on task. The Longhorns were 7–1 and ranked seventh in the nation when Beard was suspended in December after he was charged with assault on a family/household member, a third-degree felony. Beard was fired in January. Today, Texas is 18–4, ranked 10th nationally and in first place in the rugged Big 12 Conference.
After 10 seasons as a Division I head coach and 11 as a Longhorns assistant in two different stints, the man known by most in the program as "R.T." has leadership experience and institutional knowledge. As someone who buried his dad five months ago, he has perspective on the bigger picture. He's performing the delicate dance of putting people before program, with the goal of benefiting both.
"He didn't have to change much," says former Texas great T.J. Ford, who played during Terry's first stint at the school and has remained close to the program. "These guys are familiar with his voice. He's a player's coach, he's easygoing, he's understanding, he's a listener. I'm happy for everybody. This thing could have gotten really, really ugly. They're still dedicated to the University of Texas, and I don't want that to be understated."
Texas's fate is riding in part on Terry's ability to maintain continuity amid chaos and crisis, and in part on a willingness to let his staff and players help him do that. This is very much a collaborative effort in not messing up a good thing when presented with a tricky situation. Rocked to their core one morning in December, the Longhorns have thus far refused to let Beard's fireable offense define a potentially special season.
---
There was no time for the Longhorns to fully process the events of Dec. 12. They had a home game that Monday night against Rice—a quick turnaround from another game Saturday—and already were cramming to prepare for a sneaky-tough opponent. Then the bombshell dropped.
Following a late-night altercation with his fiancé, Beard was arrested that morning on a charge of "assault by strangulation/suffocation—family violence." The Austin Police Department arrest report says that Beard threw Randi Trew down and put a chokehold on her; Beard told police he was defending himself after being assaulted. Trew cited a bite mark on her right forearm, a cut on her right eyebrow and temple, a scrape on her left leg and a cut on her left thumb as injuries inflicted by Beard, according to an affidavit.
While the players were absorbing the news and gathering at off-campus apartments to discuss it, Beard was being suspended, and Terry was being elevated from associate head coach to interim. Despite the upheaval and serious nature of the charges, the game against Rice would be played as scheduled. The team wasn't given much choice but to plow forward.
"We didn't get a whole lot of questions and we didn't ask a whole lot of questions," Terry says.
As the Horns gathered for lunch that day, Terry and the coaching staff tried to keep everyone calm and in game mode. "Control what you can control," Terry told the team. "In life you're going to always have to adapt and adjust. Nobody controls your own destiny but you."
Not surprisingly, after a day of shell shock, the Rice game was a massive struggle. Texas pulled it out in overtime.
"A lot of relief," Terry says. "That was a long day—a long day. That felt like two days. Very emotional day."
From there, the Horns pulled together as a strange stasis engulfed the program. To the befuddlement of many, Beard's status remained unresolved—he wasn't going to resign, and the school made no discernible move to fire him. On Dec. 23, 11 days after the incident, Trew's attorney released a statement from her that said in part, "Chris did not strangle me, and I told that to law enforcement that evening. Chris has stated that he was acting in self-defense, and I do not refute that. I do not believe Chris was trying to intentionally harm me in any way. It was never my intent to have him arrested or prosecuted."
That statement only muddied the picture. The limbo carried on past Christmas, and as the Longhorns gathered to practice Dec. 26 for a game the next night, the coaching staff informed the players that they had a surprise guest speaker.
It was actor and Texas fan Matthew McConaughey, the self-appointed "Minister of Culture" for Longhorns basketball. He'd asked for the chance to address the team, but arrived with no planned speech. He had one simple, very human question: "How are you guys doing?"
That opened up a team conversation that had been a bit suppressed to that point. "He asked whether anyone was upset," Terry recalled. "No one was really upset. It was more the uncertainty of the times."
Finally, on Jan. 5, there was clarity. Texas fired Beard. The season could proceed without his status hovering overhead. Nothing much needed to change for an experienced roster of players and coaches.
The Longhorns are the seventh-most veteran team in Division I, according to Ken Pomeroy's metrics, averaging 3.26 years of experience per player. If any group has the maturity to carry on through this situation, it's Texas. With a nine-deep rotation and six different players having led the team in scoring in a game, the focus is more collective than individual.
"The guys set out at the very beginning with incredible goals for this season, and that was still all in play for them," Terry says. "It was still in front of them. I give them a ton of credit. They made a commitment to one another to be great teammates and have each other's back. I think you've seen that over the course of the last month and a half. Those guys are playing for each other and they're playing to win.
"The best teams are player-driven. We had seven returners from last year. Coach did a great job last year, and our staff did a great job from last year creating the culture, and the guys defended the culture."
And the coaching staff could handle a midseason shift in responsibilities as well. Terry, who compiled a record of 163–156 at Fresno State and UTEP, knew how to handle the media obligations and other CEO duties. Bob Donewald Jr., the offensive tactician, has 16 years of head coaching experience, either internationally or in the G League. Chris Ogden, who helps Terry with the defense, was head coach at Texas-Arlington for three seasons and has extensive prior experience at Texas. Special assistant Steve McClain was a college head coach for 14 seasons and seemingly has been around the game since the peach basket days.
"Inexperienced staff, that would have been tough," Terry says. "Experienced staff, it really made a difference."
Adds Donewald: "One of the things that made it easy for the staff is R.T. just being an everyday guy. R.T.'s demeanor is not high, not low. We just followed our big brother and kept going."
Watching practice at Thompson-Boling shows the coaching was a collaborative effort. Terry had the whistle around his neck and got the first, last and most words, but he was far from the only voice. Ogden handled the defensive scout of the Volunteers; Donewald had the offensive gameplan. Other staffers chimed in at varying points, with strength coach John Reilly setting an effervescent tempo and an eclectic music playlist thumping through speakers and echoing through the empty arena. (The Notorious B.I.G., followed by Willie Nelson, was a jarring transition.)
Around the Ruth's Chris dinner table after practice, the staff chemistry seems palpable. Everyone participates in the conversation, which bounces back and forth from serious to lighthearted. Ogden describes the group as "a good hang."
With so much solidly in place, even removing the leader of the program hasn't knocked Texas off course. Terry has wisely chosen to maintain as much as possible, resisting the temptation to further his own standing by putting his own stamp on the product. Egos aside, onward the Longhorns go.
"Not much has really changed," says forward Timmy Allen. "Maybe a few minor differences, but really it's the same message. Just with that Southern twang of his."
---
Growing up in the southeast Texas town of Angleton, Rodney Terry had a high school football coach who played at Texas A&M under Bear Bryant. Elwood Kettler was a member of the "Junction Boys," the hardy group that survived one of the most brutal preseason camps the sport had ever known in the summer of 1954.
But as tough as Kettler had to be to get through that ordeal, he coached with a joy that resonated. "He'd say it every day coming into practice, 'Great day to be alive, men!'" Terry recalls, then laughs. "Now I find myself saying that to my kids every day.
"You have to have a demeanor where you enjoy it. You don't want to coach angry and be upset all the time. I think there were times I took that for granted when I was a head coach before—I was so bent up, hard on myself, hard on my team. You know what? Put it in the hands of the Lord and let him guide you and your team."
Terry's fate beyond this season is in the hands of athletic director Chris Del Conte and whoever else may have a say in deciding the next full-time coach of the Longhorns. It is a Cadillac job without question. Coaches with more accomplished résumés will be interested. But could Terry preempt them by taking Texas on a deep NCAA tournament run—perhaps a return to the Final Four for the first time in 20 years?
He's an Austin guy, having gone to college in the city at Division II St. Edward's. He coached alongside Rick Barnes during the glory days earlier this century. He could have remained at UTEP for a fourth season but opted to return to Texas as Beard's right-hand man. During the pandemic he even bought a house there as a future retirement spot—then wound up moving into it the next year.
"He has to be considered," says Ford, the point guard on that 2003 Final Four team. "How many people could have held this team together with not much information, not much you could share with the players, with everything still pending? It's still mind-boggling to me."
Of course he wants the job, but that question is months from being answered. In the meantime, let's consider how close Terry might have come to landing it 16 years ago.
In spring 2007, Tubby Smith was leaving Kentucky for Minnesota—a step down, but mostly an escape from a demanding fan base that had grown weary of not reaching Final Fours. Kentucky athletic director Mitch Barnhart's first call went to Florida's Billy Donovan, who declined the job. The second call went to Barnes.
A lot of people figured Barnes would take the job, with top assistant Terry possibly positioned as his replacement. That included a lot of people at Texas, and an interested party at Memphis. John Calipari called Barnes during those deliberations and asked whether he was headed to Lexington.
But Barnes was unenthusiastic about working with Barnhart, according to Texas sources, and Longhorns athletic director DeLoss Dodds signed off on a list of requested program upgrades. Barnes turned down the chance to go to Kentucky, and Barnhart pivoted (unwisely) to Texas A&M's Billy Gillispie, bypassing Calipari until he had to perform a do-over in 2009. And Rodney Terry never got a chance to find out whether he would be promoted at Texas.
Sixteen years later, whenever and however this season of tumult and opportunity ends, Terry is going to find out. It's a shame Hucky Man isn't around to see this unfold, although the tension and uncertainty might be more than he could bear. But his memory is never further away than his son's left wrist.