Todd Boehly is a man with a lot of ideas and, since he fronted the Clearlake takeover of Chelsea last year, he has rarely been shy in expressing them. Very few of those ideas so far have demonstrated much understanding of football, its culture or how it is played, but just because a lot of what he has said has been naive or clumsy does not mean that all his ideas are necessarily bad. Which brings us to Chelsea's transfer policy.
In the January window so far Chelsea has signed Mykhailo Mudryk, Benoît Badiashile, Noni Madueke, Andrey Santos, David Datro Fofana and, on loan, João Félix at a total cost of $195 million in fees alone. Nobody has ever spent more in the January window. This follows a record-breaking summer window. Although there have been isolated chants, notably in the defeat at Fulham, for Roman Abramovich, the former owner who was forced out by U.K. government sanctions, no Chelsea fan can realistically argue that Boehly and Clearlake have not spent money. The question is whether it has been spent wisely.
And that is a very different issue. To comply with Financial Fair Play, most players have been signed on lengthy contracts so the cost of the deal can be amortized over a longer period. Mudryk, for instance, including performance-related fees, cost around $85 million and has a contract lasting until June 2031: He will effectively cost $10 million per year. That makes a certain amount of sense, because it permits significant investment now. And this was a squad that needed investment: It had been in need of a refresh, anyway, and that process was hampered by sanctions (which in turn has placed Chelsea, in the short term, in an advantageous position regarding FFP).
Invest big now in youth, and reap the benefits later. The appeal is obvious. But if it's such a good idea, why has nobody done it before? Why is this not simply how big clubs operate? To an extent it is, but a contract for eight and a half years is rare. And the reason is obvious. Footballers drift in and out of form. They suffer injuries. Some players who look like superstars at 21 years old have sunk back into the ranks by the time they hit 25. They are not predictable assets.
An eight-year contract makes sense if the player develops as you hope he will. But every transfer is to an extent a risk—as Chelsea has found with Romelu Lukaku, a player who was widely seen as the final piece of Thomas Tuchel's jigsaw. He had Premier League experience. He had pace and strength. He had scored goals in Serie A. He had seemingly demonstrated the intelligence and requisite positional intelligence in his play for the Belgium national side. And it didn't work. Chelsea was suddenly lumbered with a player who had cost $110 million and was earning a reported $400,000 a week. Sometimes players just don't fit—and long contracts mean extended liability, even if Chelsea has mitigated that to a degree by structuring deals as a low, basic wage with high performance-related bonuses.
Mudryk, to take the costliest of the winter acquisitions, has started only 33 league matches, all of them in the Ukrainian Premier League. He is bright and fresh, quick and skillful, but his goals return is a slight concern and, while his debut off the bench at Liverpool last week was largely impressive, he snatched at two chances. It was his debut, and his first game in two months. He is young, and the finishing may come. Chelsea, frankly, already has plenty of gifted wide forwards who haven't yet learned how to be incisive.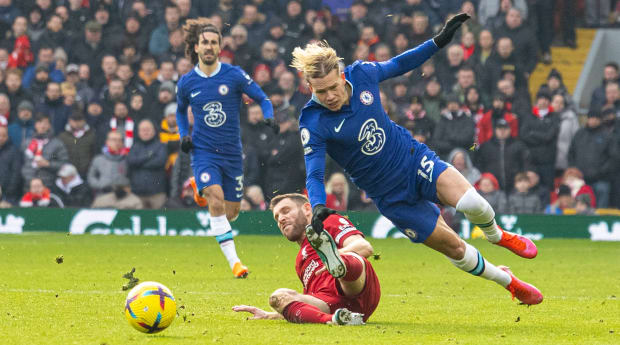 And that's the other doubt. Other than signing young players, what is the plan? None of the players Chelsea signed in the summer have settled yet. Chelsea has perhaps been unfortunate with news cycles, but there has been a sense of it hijacking other clubs' bids rather than identifying targets itself.
There are obvious deficiencies at the back of midfield and a lack of cover at fullback. Chelsea has an interest in the $150 million–rated Argentinian World Cup winner Enzo Fernández from Benfica, but, so far, those areas have not really been addressed. There's a problem, anyway, in mass sprees. Evolution is better than revolution. It's very hard to build a sense of identity or a coherent tactical system if too many of the components are new.
The Boehly project might be very exciting. It may be that front-loading the investment and buying up the future on long contracts are an effective way of doing business. It may be that Boehly is pioneering a new way for football clubs to do their business. But it comes at a huge risk. If these new players don't develop as hoped, if they don't jell into a system, it may be that all Boehly has done is saddle the club with long-term liability.