The U.S. women's national team is back on home soil after kicking off the year with a trip to New Zealand. Following a successful pair of friendlies against World Cup cohosts, the Football Ferns, Vlatko Andonovski's squad now shifts its attention to the 2023 SheBelieves Cup, where the USWNT will face off against Canada, Japan and Brazil. Two weeks ahead of the tournament—which is set to commence Feb. 16 at Exploria Stadium in Orlando—Andonovski revealed his 23-player roster, with the coach holding over 22 athletes from January camp.
With the countdown to the World Cup officially on, the latest roster signals where Andonovski and the USWNT coaching staff are centering their attention ahead of this summer's tournament.
Here are the main takeaways from the USWNT's SheBelieves Cup roster.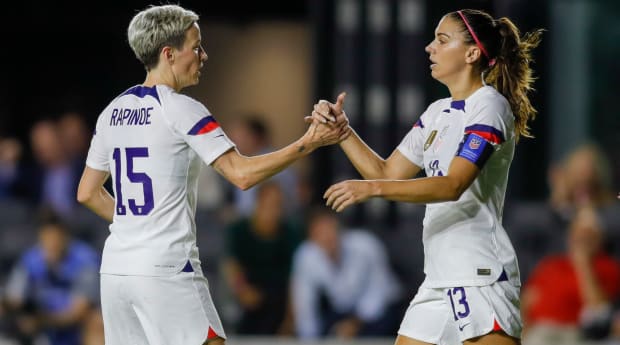 Injuries continue to shape the USWNT
The USWNT has been plagued by injury, with Olympic standouts like Tierna Davidson and Lynn Williams just now working their way back into the U.S. pool after a year away from the pitch. Williams made her triumphant comeback in New Zealand, earning another call-up for Andonovski's SheBelieves forward lineup. Davidson, meanwhile, will participate in team training but wasn't named to February's roster, as she is in the final stages of rehabbing her ACL injury.
Two notable names absent from the 23-player team are forwards Sophia Smith and Catarina Macario. Smith also missed the squad's New Zealand tour due to a knock, but Andonovski says to expect the NWSL MVP back with the USWNT sooner rather than later. "We could have got some minutes from her, but I didn't feel like this was a situation where we rushed to get her back," said Andonovski. Macario's recovery timeline has been a hot topic since she tore her ACL in June. Per Andonovski, the 23-year-old is still in Qatar finishing up her rehab and is expected to join her club, Lyon, for training in mid-February, putting her projected USWNT return in April.
One can't forget about veterans Christen Press or Tobin Heath either, with the two stars consistently excluded from Andonovski's latest rosters after Press tore her ACL in June and Heath underwent knee surgery in September. Just because they have been absent in recent months, however, doesn't mean the duo is ruled out of the player pool, cautions Andonovski. "She's a born leader and a born winner," the USWNT said of Heath, adding, "We know [she] can be an asset on any team," of Press.
How Andonvski will ultimately factor players working back to full fitness into the final World Cup roster is one of the biggest question marks leading up to July. One thing is for certain, though, the coach isn't ready to formally rule anyone out just yet.
The No. 6 dilemma still lingers
The midfield has been a conundrum for Andonovski since the start of his USWNT tenure, with questions still lingering less than six months out from the World Cup. In fairness, he has had to grapple with the prolonged absence of two of the best midfielders in team history, with Sam Mewis and Julie Ertz both almost certainly unavailable come summer. Mewis recently announced that she underwent a second surgery last month for a knee injury that has kept her off the field since 2021. Ertz has also dealt with knocks, but most recently her attention has been on starting a family, welcoming a child with her husband, Zach Ertz, in August.
"This is something we have planned for, and that's why we've tried different players in this," Andonovski said in reference to Mewis's and Ertz's vacancies. "And we're gonna continue trying in this camp until we solidify the players we believe will give us the best chance to be successful."
The defensive midfield role, in particular, has been a mystifying puzzle piece for Andonovski. Ertz is unique in her physicality, distribution and defensive capabilities, making her shoes nearly impossible to fill. Andi Sullivan, while a different look in the role, has emerged as the one for the job, playing the position for her club, the Washington Spirit. Andonvski has also experimented with slotting attacking-minded players like Lindsey Horan, Kristie Mewis and Taylor Kornieck at the six to little avail.
Leaving the other natural defensive midfielders, Sam Coffey, who was with the team in New Zealand, and Jaelin Howell, off the February roster indicates that Andonvski is still open to experimentation. "Sam is very much in the pool. She's someone we're still evaluating and analyzing and is someone we consider as a player that can have a spot in the World Cup roster," said Andonovski. The head coach added that he also had "a really good conversation" with Howell before the roster announcement, indicating that she isn't out of the World Cup picture, either. "She's good at something that probably no other six in the league is now with Julie Ertz absent," said Andonvski. "So we want to see that from her."
Veterans can make history
Mainstays Megan Rapinoe and Alex Morgan were included in the SheBelieves unit, providing the veterans with a chance to make history. Morgan enters the competition with 201 caps and will be honored with a ceremony ahead of the team's opening match, acknowledging the star forward eclipsing the 200-appearance landmark. Rapinoe also has an opportunity to crack the 200-cap threshold and will become the 14th player in USWNT history to reach the milestone should she play in all three SheBelieves Cup matches.
The team may be ushering in a new era, but seasoned players like Morgan, Rapinoe and Becky Sauerbrunn from the team's "golden generation" aren't going anywhere anytime soon—at least not before the World Cup.
The full USWNT SheBelieves Cup roster
Goalkeepers
Adrianna Franch (Kansas City Current), Casey Murphy (North Carolina Courage), Alyssa Naeher (Chicago Red Stars)
Defenders
Alana Cook (OL Reign), Emily Fox (North Carolina Courage), Crystal Dunn (Portland Thorns FC), Naomi Girma (San Diego Wave FC), Sofia Huerta (OL Reign), Becky Sauerbrunn (Portland Thorns FC), Emily Sonnett (OL Reign)
Midfielders
Lindsey Horan (Olympique Lyon), Taylor Kornieck (San Diego Wave FC), Rose Lavelle (OL Reign), Kristie Mewis (NJ/NY Gotham FC), Ashley Sanchez (Washington Spirit), Andi Sullivan (Washington Spirit)
Forwards
Ashley Hatch (Washington Spirit), Alex Morgan (San Diego Wave FC), Midge Purce (NJ/NY Gotham FC), Megan Rapinoe (OL Reign), Trinity Rodman (Washington Spirit), Mallory Swanson (Chicago Red Stars), Lynn Williams (NJ/NY Gotham FC)