The silly season never really stops in college football, as there are almost always coaches moving around across the sport and to the NFL. But with some of the defensive coordinator moves, questions abound about what they mean for the future of those programs.
The below teams include coordinator changes of only teams that did not also have a head coaching change.
Alabama: Is Steele the solution?
Out: Pete Golding (Next: Ole Miss DC)
In: Kevin Steele (Previous: Miami DC)
The era of defense winning championships isn't exactly extinct (see: Georgia), but it's not the easiest route to the crown given what even the Tide have done, which is build that side of the ball to be good enough, but rely on elite offense to carry things. How much Alabama will depend on defense moving forward remains to be seen as the Tide enter into an uncertain era on offense, but the Bama fans who have wanted Pete Golding out for so long get their wish in Steele, who is on his third tour of duty with the Tide.
Arkansas: Can the Hogs maintain their level even though the era of continuity is over?
Out: Barry Odom (Next: UNLV coach)
In: Travis Williams (Previous: UCF DC)
Sam Pittman hasn't had to hire new coordinators on either side of the ball since he got to Arkansas, and that has been a point of pride for the program. Now they're changing on both sides of the ball, and in steps Williams to the defense. He's a promising young coach with SEC bonafides as a former assistant with Gus Malzahn at Auburn. Williams went with Malzahn to Orlando and, after one season, is back in the league and, crucially for his own development, outside of Malzahn's orbit.
Baylor: Can the Bears get back to dominant defense?
Out: Ron Roberts (Next Auburn DC)
In: Matt Powledge (Previous: Oregon assistant)
There's no question that Baylor's defense had regressed, so Roberts's finding a new home at Auburn isn't terribly surprising, but Dave Aranda's pick is someone familiar in Powledge who was safeties coach in Waco in 2021 and '22. With a defensive-minded head coach as good as Dave Aranda, who coordinates on that side of the ball is important, but note that it's Aranda's brand of defense at the end of the day. Can they work together to pivot it back to the still very recent heydays?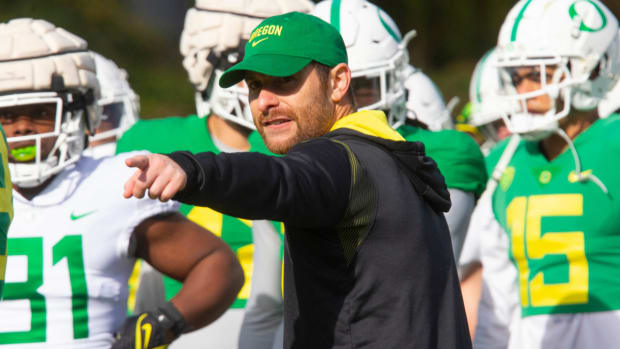 BYU: What will Hill finally do with the BYU opportunity?
Out: Ilaisa Tuiaki (Resigned)
In: Jay Hill (Previous: Weber State head coach)
Hill and Kilani Sitake have plenty of familiarity, working together for years on the same staff at Utah. Hill had been for a long time rumored as potentially a candidate for the head job at BYU if the program moved away from Sitake. But the Cougars have remained steady under Sitake's leadership. Now, Hill has gone the route of some FCS coaches who have left their job to take an FBS coordinator role having been at Weber State since 2015.
Illinois: Can Bielema again develop a sharp young DC?
Out: Ryan Walters (Next: Purdue head coach)
In: Aaron Henry (Internal promotion)
In industry circles, one of Bret Bielema's best attributes is his ability to identify and incubate coaching talent. Bielema plucked Walters from Missouri staff, where he was already thought of as a sharp young coach, and Walters developed into a no-doubter head coaching candidate by building one of the best defenses in college football last season. Now Henry, who played for Bielema at Wisconsin and started his coaching career with him at Arkansas, steps up to fill Walters's shoes.
Ole Miss: Can Golding redeem himself?
Out: Maurice Crum (Next: SMU assistant) and Chris Partridge (Next: Michigan assistant)
In: Pete Golding (Previous: Alabama DC)
Golding often found himself—many times unfairly—in the crosshairs of Alabama's rabid and massive fan base as the Tide got further away from the dominant defenses that powered the first stretch of titles. Now he'll get a fresh start, and perhaps that's what he needs with Lane Kiffin at Ole Miss. They're two men who can undoubtedly share plenty of stories about the "ass chewings" they've received from Nick Saban.
Syracuse: Does Rocky Long still have another dominant defense in him?
Out: Tony White (Next: Nebraska DC)
In: Rocky Long (Previous: New Mexico DC)
This is a hire a few years in the making, as Dino Babers and Syracuse tried to bring Long in before. Instead, they got one of his disciples in White and built the 3-3-5 defense. But Long is the godfather, and although he's long in the tooth in the industry, don't think he's not still wily enough to build 'Cuse into a stingy defense that can become a changeup for the rest of the ACC.