TYLER, Texas (KETK) – The cold front continues to move southeast across East Texas, taking away the severe weather threat. However, rain looks to continue through the late afternoon. See our latest video update above.
---
Download the East Texas Storm Team app. You can view Futurecast, and set up custom alerts for multiple locations. You will be notified of lightning and storm alerts, rotating storm threats, and custom messages from your East Texas Storm Team. Download for Apple and Android devices. Also, have a secondary way to receive weather information, like a NOAA Weather Radio.
---
Tracking current conditions
Here are the latest updates to our weather. We will see these map update around every 15 minutes. We are seeing storms develop ahead of the main line quicker than expected.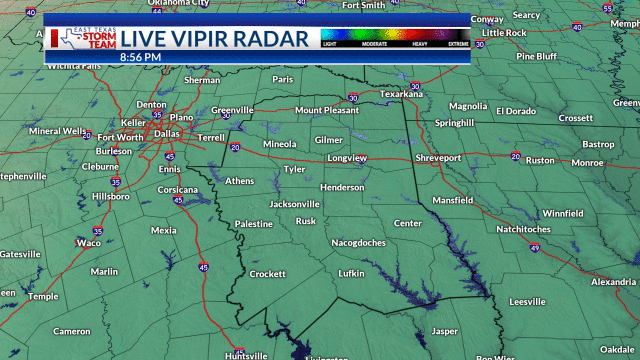 Storms continue to increase along the cold front, so we will closely monitor Deep East Texas.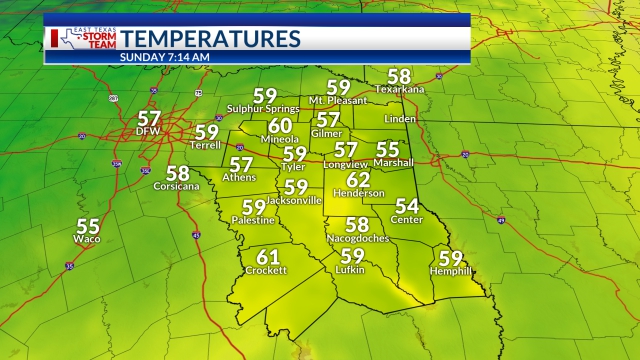 ---
Weather Setup
With the cold front moving in, temperatures will take a tumble back into the 50s and 40s today.
With these ingredients (along with increasing instability), we have enough to see a few isolated strong storms Saturday morning and heavy rain through the first part of the day. The Storm Prediction Center has East Texas under a "Marginal Risk" for isolated wind gusts and hail. Tornado risk is very low, but not discounted from this forecast.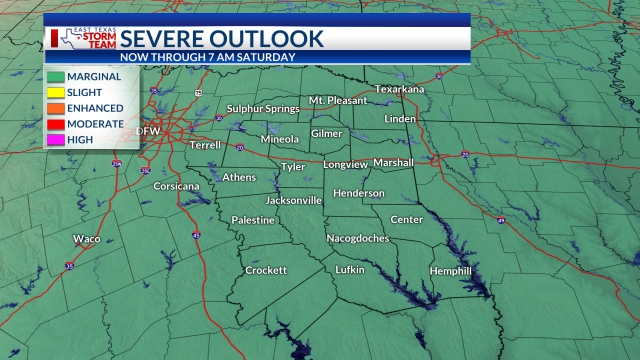 ---
Temperatures drop today
Temperatures take a big tumble behind the front. We will fall into the 50s and even some 40s into the afternoon.