---
Take a moment to download the East Texas Storm Team app. You can view Futurecast, and set up custom alerts for multiple locations. You will be notified of lightning and storm alerts, rotating storm threats, and custom messages from your East Texas Storm Team. Download for Apple and Android devices. Also, have a secondary way to receive weather information, like a NOAA Weather Radio.
---
Flash flooding has been reported across several portions of Deep East Texas.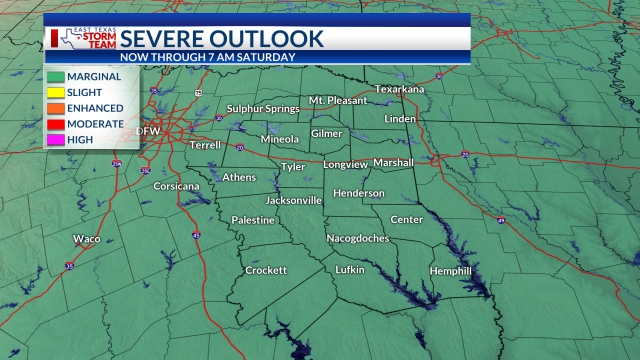 ---
TRACKING CURRENT CONDITIONS
WEATHER SETUP
A potent weather system taking shape across the Midwest where a cold front and an upper disturbance have come together triggering a lot of rain. For us, that cold front will be sliding into our area this afternoon.
FUTURECAST
This afternoon, the cold front is approaching and we are heating up to our max temperatures. This plus some sunshine will allow for clouds to build vertically into the sky, tapping into the colder air aloft and then triggering storms. Futurecast does not show much between 12 PM and 2 PM, but after then the storm development is expected.
Most of the storm coverage remains north of HWY 79 through the late afternoon and evening, but some rain expected into Deep East Texas after 6 PM and especially late evening.
The storm threat will remain possible in Deep East Texas through early Monday morning with the cold front slowly moving in.
Areas where heavier rain occurs could pick up over 1″ of rain. However, through this Wednesday, all of East Texas could receive 1″ – 3″ of rainfall.