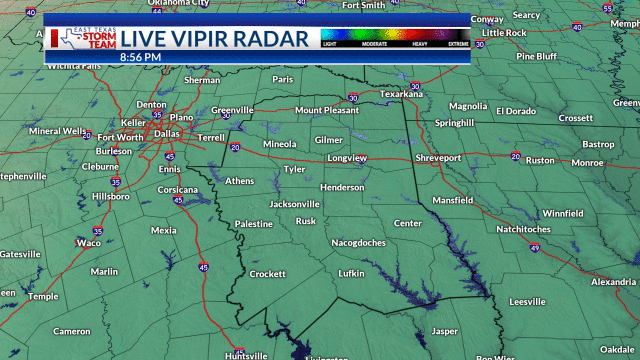 Tyler, Texas (KETK) – The East Texas Storm Team has issued a Severe Weather Alert Day for Saturday. Some strong to severe thunderstorms are expected from 10 AM Saturday morning to 10 PM in the evening. We could see two rounds of storms, one will occur late Saturday morning/ early afternoon, while the 2nd round will be later in the afternoon and evening. Here's a look at Future cast from our in-house computer model.
Based on this and other computer models, here's a look at our forecasted timeline of tomorrow's storms. Since we'll have a high level of instability, this storm timing will be subject to change.
Below, you'll see the individual storm threats. Damaging winds and large hail will be the main threats for tomorrow. Meteorologists consider this a high instability and low shear environment which means the tornado threat is going to be low. Storms are expected to produce a lot of lightning as they move through. Flash flooding will be a possibility if we see a lot of rain in a short amount of time. When storms approach, make sure you move in doors to keep yourself safe.
With the threat of severe weather, have two ways to receive weather alerts before watches and warnings are issued. With many events going on Saturday, make sure you have a way to get indoors quickly if threatening weather approaches.
One way to stay ahead of the storm is through the East Texas Storm Team app. A great resource where you can view Futurecast, and set up custom alerts for multiple locations. You will be notified of lightning and storm alerts, rotating storm threats, and custom messages from our Meteorologists. Download for Apple and Android devices. Also, have a secondary way to receive weather information, like a NOAA Weather Radio.