TYLER, Texas (KETK) – We will welcome 2022 with storms and then the coldest air of the winter season so far!
Storm Watch
Here is a look at the radar and current conditions.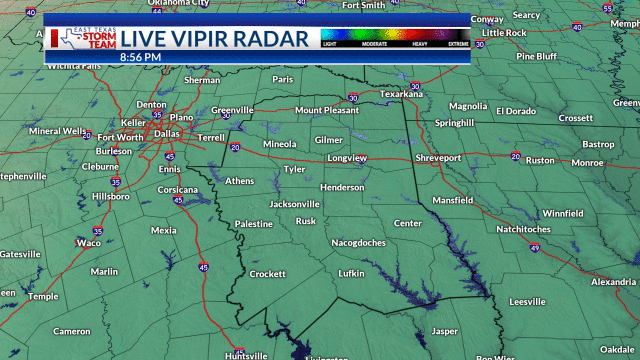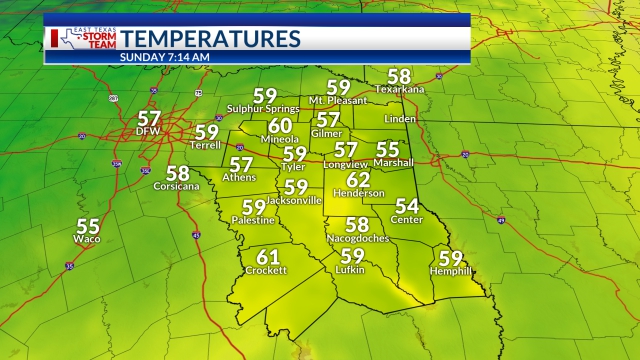 ---
SATURDAY STORMS
A powerful low-pressure system will bring a threat of strong to severe storms across a large portion of the southern United States.
The risk for a brief strong storm or two will be near the ArkLaTex primarily, but will ramp up more into the Tennessee Valley where a significant severe threat exists.
Across East Texas, we are looking at a risk of isolated severe storms early Saturday morning through early Saturday afternoon. The biggest threat for severe storms will likely stay north and east of our area.
Remember to have multiple ways of getting weather alerts, including the East Texas Storm Team app and a NOAA Weather Radio. Although our severe threat isn't particularly large, you still need to remain weather aware.
HERE COMES OLD MAN WINTER
Behind Saturday's cold front, strong northwesterly winds will bring in cold, dry air for Sunday. Temperatures will begin to drop late-Saturday afternoon and we'll get really cold by Sunday morning.
Sunday morning will be bitterly cold. Primarily because the sustained wind will be in the 15-25 mph range and gusts near 30. This will give us DANGEROUS wind chill (feels like) temperatures.
If you have to travel late-Saturday night into Sunday morning, use extra caution on the roadways. If any puddles remain on the roads from Saturday morning's rain, then there could be some light icing on the road. Widespread travel impacts are not expected at this time. Remember to protect the 4-P's when dealing with cold weather: people, pets, pipes, and plants.
Here's a story from KETK/FOX51 reporter Frank Jefferson going into detail about protecting the 4-P's.
Light to calm winds on Monday morning brings a hard freeze to East Texas. Lows in the 20s, possibly a few Teens.
Morning lows return to above-freezing levels area-wide by Wednesday. In fact, by Wednesday afternoon, high temperatures will climb into the upper-60s and low-70s!